WASHINGTON -- With just two weeks remaining until Election Day, the polls that now show a remarkably close margin separating President Barack Obama and Republican nominee Mitt Romney reflect a snapshot of opinion taken just before their third debate. Could that final debate be a game changer?
Though even small changes in a race this close are obviously critical, the lack of a meaningful polling bounce from the second debate provides an important reality check.
Monday night's instant reaction polls were consistent in finding that more viewers considered Obama the winner of the third debate, but the same kinds of surveys conducted last week found similar reactions to the second debate.
As of this writing, we have logged into the HuffPost Pollster tracking model 49 new surveys (11 national and 38 statewide) fielded entirely after the second debate on Oct. 16. When incorporated into the model's estimate of the national vote, these new polls combine to show virtually no recent trend change, with the two candidates separated by two-tenths of a percentage point or less every day since Oct. 9.
Consider also a simpler apples-to-apples comparison of results from national pollsters that were in the field between the first and second debate and again in the past week. Four show net movement toward Romney, three show net movement toward Obama, and all the changes fall well within a range that can be explained by random sampling. A brief uptick for Obama that appeared in a similar comparison on Saturday turned out to be something of a Democratic mirage, most likely the product of random chance.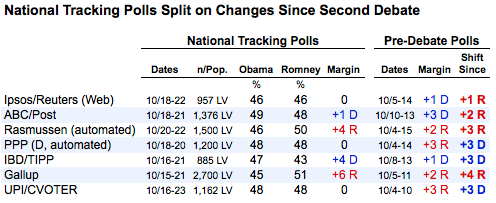 At the state level, as of this writing, the candidates' standings within the key battleground states are also roughly where they were on Oct. 16, the day of the second debate. Six states show slightly better margins for Obama and four states are slightly better for Romney, with an average difference of just under a half percentage point in Obama's favor. Once again, most of these differences are occurring by random chance.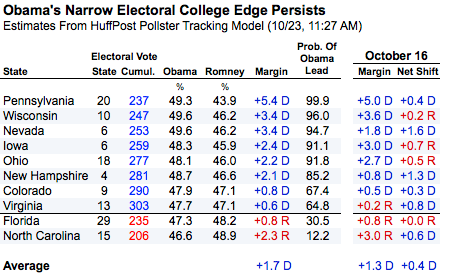 The most critical aspect of the state polling averages -- the small but statistically meaningful leads for Obama in Wisconsin, Nevada, Iowa and Ohio that combine to provide 277 electoral votes, seven more than needed to win -- remains unchanged.
To the extent the three debates have had an impact on the polls, it is most evident in the turnaround in Romney's favorability ratings, which had been net negative on most surveys throughout 2012. On the HuffPost Pollster trend chart, Romney's positive rating has increased roughly 5 percentage points (from roughly 43 percent to nearly 48 percent) over the past month, while his negative rating has fallen about the same amount (from almost 49 to just over 44 percent as of this writing).
These changes represent the "genuine shift in perceptions of Romney's character," that The New Republic's Nate Cohn speculated might prevent a shift in the polls following the second debate. Obama may have received high marks in instant polls after the second debate, but it is not clear that his performance in either the second or third debate has served to "'re-disqualify' Romney among voters reassured in the first," as National Journal's Ron Brownstein put it.
Exactly two weeks remain before the election, and small shifts in the polling are always still possible. It doesn't take much to change a game this close. Given the lack of reaction to the second debate, however, a big bump from the third looks unlikely.
BEFORE YOU GO