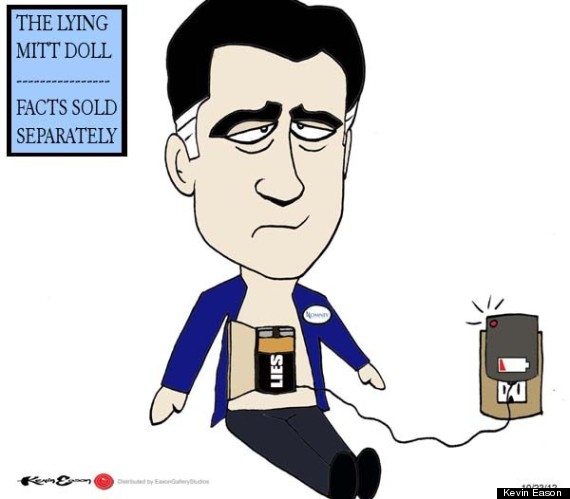 Although last night's final debate wasn't quite the heated showdown we saw the second time the presidential candidates faced off, it was entertaining nonetheless.
Obama came with a strong offense, a departure from his somewhat reserved approach in the first debate. His well delivered snarky remarks showed that he was definitely back on his game and many agreed that Obama should count last night's verbal contest as a victory.
Surprisingly, the candidates agreed on many aspects with respect to foreign policy. But one thing the candidates disagreed on were the facts.
While both candidates were guilty of stretching the truth Romney has repeatedly been criticized for his misleading statements throughout the debate season. And according to cartoonist Kevin Eason last night's debate proved Romney's facts are "sold separately."
What did you think of last night's debate? Share your thoughts in the comments section below.

About the artist:

Kevin Eason is a freelance editorial cartoonist and illustrator from New Jersey. His brand of satire covers news events in politics, entertainment, sports and much more. Kevin's work features include:
Gannet, TVOne, Uptown, The Urban Daily, NAACP, Cengage Publishing, Bossip, WBLS_107.5FM, and various newspapers & magazines throughout the country. Follow him on Facebook.
PHOTO GALLERY
The Political Satire Comedy Of Kevin Eason