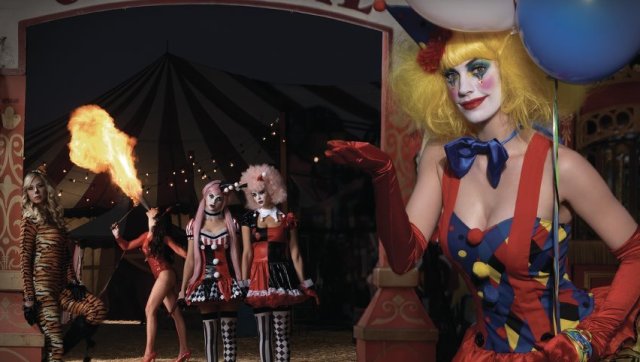 It would be hard to picture Hung-Chan Tsai, the 77-year-old chief executive of Leg Avenue, whose wife cooks Taiwanese lunches for the company's 80 employees every day, in a sexy Halloween costume.
Nevertheless, Tsai is largely responsible for the ubiquity of sexy Halloween costumes today. Leg Avenue, the lingerie and hosiery company the Tsais started after immigrating from Taipei in 1984, expects to sell $80 million worth of frilly french maids, short-skirted bumble bees and pirates in bustiers this year. The privately held company, now run by the four Tsai children out of City of Industry, Calif., is one of the largest manufacturers of sexy Halloween costumes in the world.
"East Asian people are conservative," said Tsai. "We don't wear revealing clothes in the public sphere. But in another country, if you want to earn money, you have to design according to their tastes."
Melody Tsai, 31, Leg Avenue's creative director, put it another way: "Yep, we're a traditional Taiwanese family that sells kinky Halloween costumes."
When Lady Gaga needed a red lace body stocking for a performance at a Marc Jacobs party, she called Leg Avenue. Nikki Minaj sported furry rainbow leg warmers from Leg Avenue in Willow Smith's recent video "Fireball." Chances are, if you've ever dressed up as a "Racy Red Riding Hood" or "Bad Girl Alice" (in Wonderland), you've worn the brand.
Leg Avenue "was definitely the first company to take characters like that and make them sexy," said Tony Bianchi, owner of Halloween Adventure, New York City's oldest Halloween store. "Now it's so popular I don't know where we'll go next. What's it going to be, burqas?"
It's hard to imagine Oct. 31 passing without a lot of flesh exposed. But industry insiders said sexy Halloween costumes didn't truly exist before the late-'90s and early-2000s, when Leg Avenue began mass producing them. Before that, most women's Halloween costumes sold in stores were nuns, flappers or witches. Risqué costumes, meanwhile, were reserved for strippers or the fetish and role-play markets. If a woman wanted to be sexy on Halloween, she usually made the costume herself.
In 1984, when the Tsai family first arrived in Los Angeles, they made ends meet by importing low-priced goods from China and selling them at flea markets around the city. The two daughters, Melody and Amy, had a knack for design and began spicing up the hosiery the family was importing with zippers and other embellishments. Eventually, hosiery led the family into lingerie and a few kinky costumes. In 1998, Amy Tsai, now the company's chief marketing officer, named the business Leg Avenue. "I like to shop at Saks Fifth Avenue and I had bad grammar," she said with a laugh. "Leg should have been two legs."
Growing up, the Tsai children never had enough money to celebrate Halloween, according to Melody. But in 1998, they decided to try exhibiting at a Halloween trade show in Chicago on the recommendation of a few customers. "At first I told my dad, 'I don't get it,'" said Amy Tsai, now 43. Halloween "is only one day a year for business."
"I knew there was a ghost festival in America but not that it was such a huge market," said Hung-Chan Tsai. "From a Taiwanese perspective, seeing a human head in front of a house or people dressing up like witches is off-putting. We thought it was a better idea to make it sexy and lovely instead of scary, to do a Snow White and show some cleavage."
Costumes with scant fabric also made economic sense. "If you have revealing clothes the cost is low and you can make all kinds of different styles," he said.
The next year, the Tsais showed up at the Halloween show with cat-suit and school-girl costumes. As sales increased, the family came up with more ideas for costumes that could be given a sexy spin and developed relationships with big Halloween retailers like Party City and Spirit Halloween.
"There was definitely unfulfilled demand for sexy costumes," said Melody Tsai, noting that all the biggest costume companies now have Leg Avenue-esque lines.
Melody Tsai suspects cultural changes paved the way for an explosion of sexy costumes. During the '70s and '80s, Halloween transitioned from being a children's holiday to an occasion for adults to party. Meanwhile, in the late-'90s, a new wave of pop stars like Britney Spears and Christina Aguilera popularized the sexy schoolgirl look. In 1998, the year Leg Avenue attended its first Halloween trade show, Monica Lewinsky -- with a beret, a wig and a stained dress -- was a runaway costume hit at Halloween.
Of course, not everyone has been thrilled about the proliferation of sexy costumes. Tasha Amador, a volunteer with the San Gabriel Valley, Calif., chapter of the National Organization for Women, staged a protest against sexy costumes earlier this month near a Party City store in Pasadena, not far from Leg Avenue's headquarters.
"It has become absolutely outrageous," said Amador. "Girls are dressing up like some kind of porn fantasy or Playboy playmate. These corporations are pressing women and young girls to objectify themselves."
In 2004, aware that teens were starting to buy their costumes and that a backlash was brewing, Leg Avenue launched a more modest "juniors" line. "I was out on Halloween and I saw a 13- or 14-year-old at a Starbucks wearing something of ours that was absolutely inappropriate," said Melody Tsai. "I think it was a referee. I thought, oh, okay, we gotta fix this." Costumes in Leg Avenue's teen line, for girls ages 12 to 16, are much more modest, with skirts whose hemlines fall not far above the knee. The company also makes kids and toddler costumes for boys and girls.
While Tsai herself doesn't dress up for the holiday -- "What am I going to be on Halloween? Asleep!" -- she said she believes sexy costumes can be empowering for adult women. "There's nothing wrong with dressing in creative, fun and sexy costumes." she said. "I wonder why our culture is so conservative. If you look in South America or Europe, nudity isn't that big of a deal. The female form is a beautiful thing."
Of course, the elder generation of Tsais don't come from a place where either Halloween or public nudity are norms. "I belong to a more conservative time," said Hung-Chan Tsai. "But making money and being successful is about studying consumers and understanding them. You should respect other people's culture and not judge them."
Thanks to HuffPost Live's Kai Wang for translating the interview with Hung-Chan Tsai.
BEFORE YOU GO