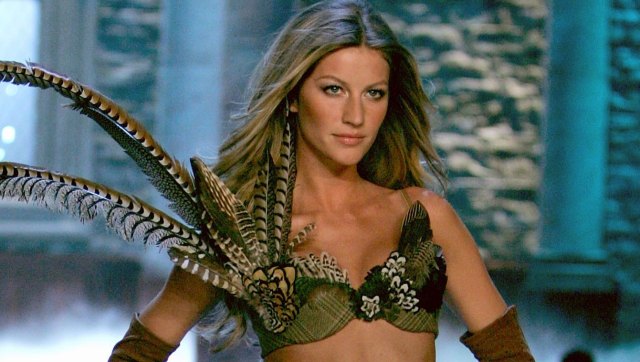 Gisele Bundchen doesn't seem deserving of a pity party by any means. The supermodel has graced more than her fair share of Vogue covers and managed to become one of the highest-paid models in the industry. Time magazine even ranked the 32-year-old as the most influential fashion model since its creation in 1923. (We think we've made our initial point clear.)
But, apparently, Gisele wasn't always such a hot commodity. According to Mario Testino, he had to convince the style world that the Brazilian model had what it takes. Amidst the opening of his new photography exhibition "In Your Face," the world-renown fashion photographer told The Observer that people were far from falling all over themselves to book Gisele at the start of her career:
"Nobody liked her, nobody wanted her. I had to fight to get her into my stories because nobody thought she was right –- too this, too that, the nose, the breasts, the waist. But I believe in being obsessed, in getting obsessed."
We think it goes without saying that Mario certainly has a good eye. After all, the 57-year-old photographer was poached by Anna Wintour from Harper's Bazaar and hand-picked to shoot Prince William and Kate Middleton's engagement photos. (And does anyone else still melt when they see his 1997 Vanity Fair shoot with Princess Diana?).
As for his role in propelling Gisele Bundchen into superstardom, we think that the fashion world -- especially Victoria's Secret -- would not be the same had it not been for his championing of the now-iconic model. Well done, Mario. Any other supermodels up your sleeve?
Click over to The Observer for more on Mario Testino's exhibition and his full interview.
If you're still in doubt of Gisele Bundchen's modeling abilities, check out some of her ads.
PHOTO GALLERY
Gisele's Best Ads
Want more? Be sure to check out HuffPost Style on Twitter, Facebook, Tumblr, Pinterest and Instagram at @HuffPostStyle.