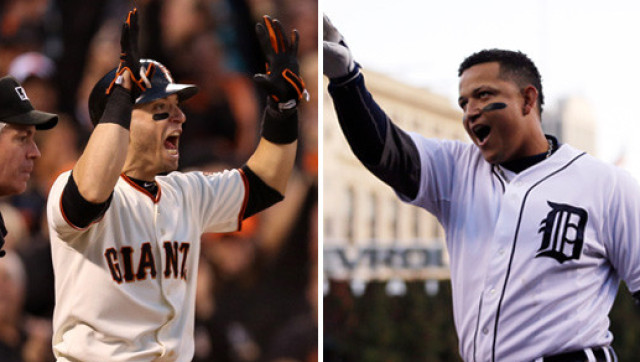 It will hardly be a shock if the decisive hit in the 2012 World Series comes off the bat of Buster Posey. Likewise, a sterling showing by starting pitcher Justin Verlander won't exactly catch anyone off guard. Not surprisingly, these All-Stars are among the likeliest candidates to be named World Series MVP.
Leading the pack is Tigers slugger Miguel Cabrera, who became the 15th player ever to win the Triple Crown (batting average, home run and RBI leader) and the first since Boston's Carl Yastrzemski in 1967. Posey won the National League batting title. Verlander is the reigning AL MVP and Cy Young winner. And, don't forget about Prince Fielder, who has hit 30 or more home runs every season since 2006.
Of course, both League Championship Series proved that the obvious star is not always the one who shines brightest in October. Just look at the NLCS and ALCS MVPs. Delmon Young and Marco Scutaro? Few expected that. As Deadspin pointed out, Young never posted a WAR in a single season higher than 1.5. He batted .353 with six RBI and two homers against the Yankees. Scutaro, 36, is a journeyman who landed with the Giants via a mid-summer trade. In 61 games in San Francisco, he batted an astounding .362 and then raked at a .500 clip in the NLCS (a new record).
Looking back at recent World Series MVPs, Young and Scutaro would fit in just fine. David Freese, Edgar Renteria, Hideki Matsui, Cole Hamels, Mike Lowell, David Eckstein and Jermaine Dye are the last seven World Series MVP winners. None of them were considered the favorite to win MVP going into the Fall Classic.
Who will make their mark on the 2012 World Series? Will this series be remembered as the coronation of a star like Verlander or Posey? Or will another unheralded player step forward to indelibly etch his name into baseball history?
PHOTO GALLERY
World Series MVP Odds
All odds via Bovada.com.