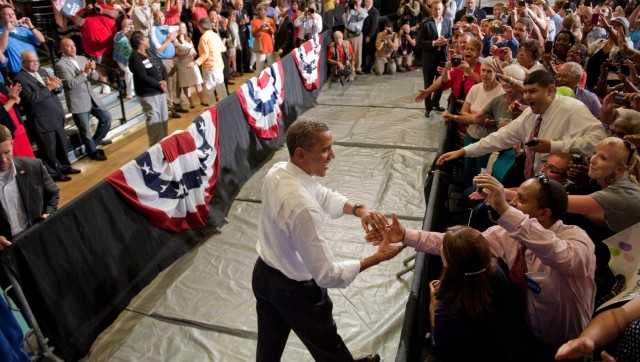 TOP 5 FOR WEDNESDAY, OCTOBER 24
1. Aimee Mann And Ted Leo At Birchmere
Full band set from Mann, solo set from Leo, both indie rock, indie comedy, indie punk approved lifer-musicians. I don't think Mann's or Leo's fans would mind if this became an annual tour. 7:30 p.m., all ages, sold out, also Thursday, October 25
2. On The Campaign Trail At Corcoran Gallery
The two candidates have unique perspectives on this country. This is a glimpse into what they've seen. 10 a.m., all ages, $8 to $10
3. Food Day Food Fair At George Washington University
Seven exhibitors will educate students and the public about eating well and eating local. Part of Food Day. 11 a.m., all ages, no cover
4. Pig Roast At Meridian Pint
To celebrate Food Day, this Columbia Heights restaurant is having a pig roast featuring a natural, free range Berkshire hog from Smith Meadows, in Berryville, Va. 5 p.m., all ages, prices vary
5. Paws At The Park At Park Hyatt Washington
It's usually creepy to hang out in a dog park without a dog. It's awesome to go to a dog park and watch a dog costume contest. Proceeds from the event go to support the Washington Animal Rescue League. 6 p.m., all ages, $12 cover includes 2 tickets for beer or wine, Halloween candy, treats for the dogs
TOP 5 FOR THE NEXT 5 DAYS
Thursday, October 25
thirst Smithsonian Spooktacular at The Equitable Co-operative Building Association
Six experts from the Smithsonian will lecture about six interesting subjects: guns in space, American-style Chinese food, indigenous tattooing, the colors of Mars, Indian Spiderman and dinosaurs.
Friday, October 26
Brightest Young Things & The Temple of Doom at The Sphinx Club
Have you ever partied at The Sphinx Club? Did you know it exists? If you're not sure if you want to celebrate Halloween, remember this event. Free zombie makeovers and a chance to visit a downtown institution most people have never visited.
Saturday, October 27
Family Day: Decision 2012 at Newseum
Teach the kids about the glorious political system that gives every citizen a voice. Or tries to give every citizen a voice. It works in theory.
Sunday, October 28
NSO Family Concert: Halloween Spooktacular! at The Kennedy Center
Another family event, this one with costumes. Musicians from the NSO perform Halloween themed music in costume. Cute!
Monday, October 29
Sic Alps, Lorelei, Foul Swoops at Comet Ping Pong
This is the type of show that led to us writing about Sasha Lord. Three bands, three different genres, two locals and a touring act, fairly priced, good poster art and most importantly, good music.

BEFORE YOU GO