Photographer Andrew Hall is an artist with a soft spot for atomic orbits. And one of his recent projects, a series of long-exposure snapshots, is dedicated entirely to the beauty he sees in an electron pathway.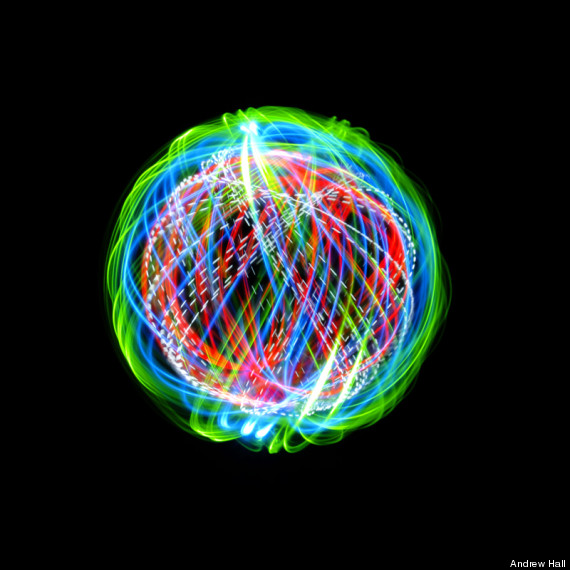 Titled "Orbs," the multi-colored series was created through a process called light painting. Using LED lighting, Hall takes long-exposure shots of spinning lights, capturing the streaking colors as they take the form of what look like a three-dimensional object. According to an article by Wired, Hall has been unwilling to explain exactly how he arranges the LED lighting for his light paintings, but he did reveal that his mysterious technique involves a human-powered analog machine that's small enough to fit on a desk.
Hall gave us his own description of his amazing photographic work in an e-mail:
"Much of my recent work has been an ongoing exploration of the natural patterns of geometry. Using a long exposure and various home built rigs, I photograph small colored LED's as they spin on controlled axes. Repeated circular orbits overlap to give a three-dimensional appearance to the pattern, which can be further manipulated by altering the speed and direction of the spin. All the shots are a single, in-camera exposure, with no photoshop or post production retouching."
Not surprisingly, Hall's work has earned him attention in both artsy and scientific quarters. His vivid orbs recently graced the cover of New Scientist magazine, serving as a visual aid for an article on quantum theory. Fun fact: According to an interview Hall did with LightPaintingPhotography.com, the artwork was supposed to be featured one month earlier, but was delayed when scientists inconveniently discovered the Higgs Boson.
Scroll down for more images of Hall's ode to atomic orbits. Let us know what you think of the light painter's work in the comments section.
PHOTO GALLERY
Andrew Hall's Orbs
BEFORE YOU GO