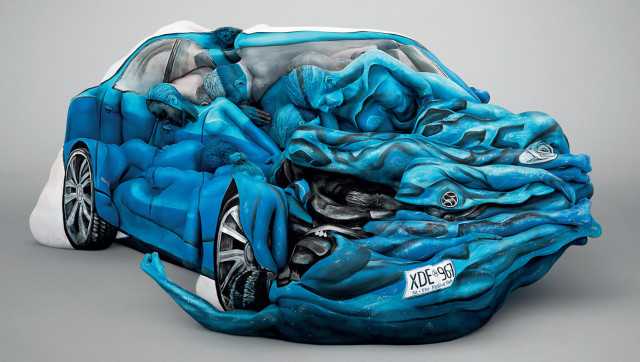 If you thought Gotye's "Somebody That I Used To Know" music video was trippy, prepare to enter a new realm of body art.
This optical illusion was made by Emma Hack, the Gotye video visionary who calls herself a skin illustrator on her website. The unorthodox artist really outdoes herself this time, using body paint to transform 17 naked (and quite nimble) participants into the shape of a mangled automobile. The result is startlingly convincing and a bit frightening, which is the point. The post-crash blue form, which took Hack 18 hours to complete, is part of the campaign for the Australian Motor Accident Commission (MAC), which aims to prevent low-level speeding.
Watch Hack turn a crowd of naked people into a totalled vehicle in the slideshow below and let us know what you think in the comments section. If we got you feeling all nostalgic about Gotye's hit, check out his video in our collection of 10 music videos we can't stop watching.
PHOTO GALLERY
Emma Hack - Body Painting
BEFORE YOU GO