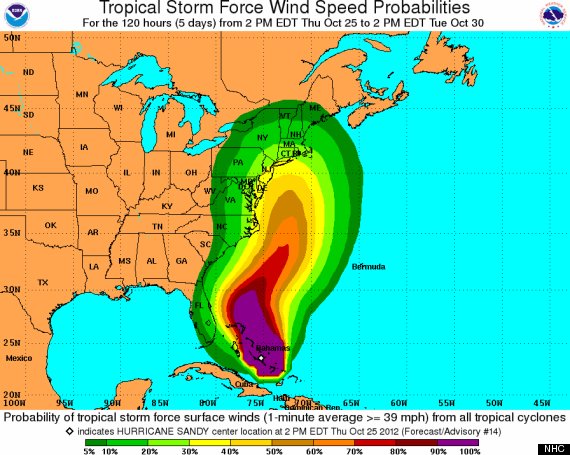 Hold on to your umbrellas, Miami!
Though Hurricane Sandy is expected to remain off Florida's east coast after passing over Cuba and the Bahamas, there's still a tropical storm warning in place for coastal Miami-Dade, Broward, and Palm Beach Counties and the Atlantic waters off southeast Florida.
"Winds will be increasing across southeast Florida the next couple days," Kim Brabander, a meterologist with the National Weather Service, told NBC6. "Thursday night and Friday, Sandy will be closest to South Florida on the east side."
Fast-moving bands of moderate to heavy rain are expected to push across coastal areas and metro Miami through Thursday night, with brief heavy downpours and possible gusts as high as 50 mph. Forecasters say even if sustained tropical-force winds don't reach the coast, occasional gusts of such are expected especially Friday.
The National Weather Service warns that small objects may be blown around, some tree damage may occur, power lines may be downed in some areas, and dangerous rip currents will be present at Atlantic beaches.
Still, chances are slim Miami would see tropical storm-force winds -- but forecasters warn any westward deviation in Sandy's track could change that. See the wind probabilities in the graphic above, and check out the storm's projected path below: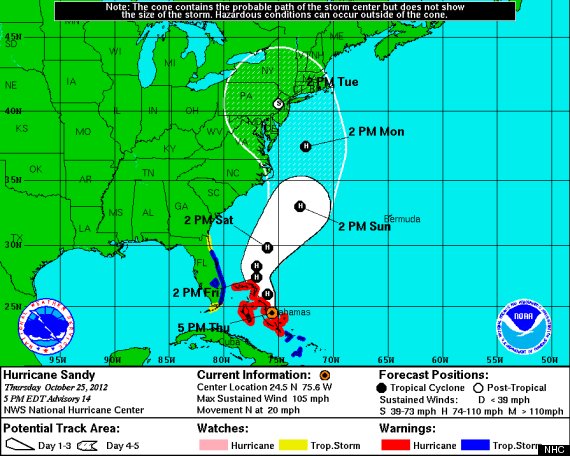 BEFORE YOU GO
PHOTO GALLERY
South Florida Feels Hurricane Sandy