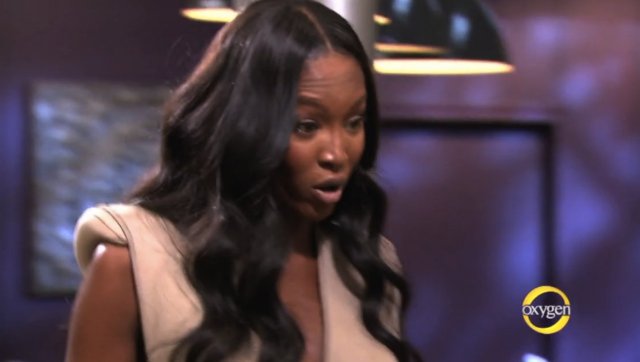 Not a fan of the "America's Next Top Model" revamp, but still looking to get your model-themed reality television fix? No worries, the premiere of "The Face" is just around the corner. Well, not really -- the show doesn't actually premiere until February, but Oxygen has just released some teasers to hold you over.
If you're not familiar with the forthcoming series, the premise of the show is very similar to "The Voice" except, instead of famous musicians coaching rival singing teams, iconic fashion models will handpick teams of aspiring models, coach them and pit them against models on the other teams until one is chosen as "the face." (We really hope they were able to factor in spinning chairs and oversized, flashing buttons as seamlessly as the music version did.) The team leaders are Naomi Campbell, Karolina Kurkova and Coco Rocha, so we figure at least two of them will play nice.
As far as we can tell from the minute-long teaser, the drama doesn't seem entirely -- what's the word we're looking for? -- organic. In one scene, Naomi traipses over to Karolina and declares, "I'm very disappointed in your choice, Karolina. All I'm going to tell you is that it's game on from now on." We'll leave it up to you to decide if the brouhaha is convincing though.
Either way, there seems to be some nice energy around the show, so we're still excited for it to premiere next year. A return of our beloved Nigel Barker from "ANTM" on a modeling reality show that actually has some fashion cred? Yes, please!
Check out the teaser below and click over to Oxygen for some awesome GIFs of the hosts, modeling tips and more. What do you think of the sneak peek? Will you be watching the show?
ALL 3 'THE FACE' PROMOS from Coco Rocha on Vimeo.
Take a walk down memory lane with some of the best moments from "America's Next Top Model." How do you think "The Face" will stack up against its predecessor?
PHOTO GALLERY
Best "ANTM" Moments
Want more? Be sure to check out HuffPost Style on Twitter, Facebook, Tumblr, Pinterest and Instagram at @HuffPostStyle.