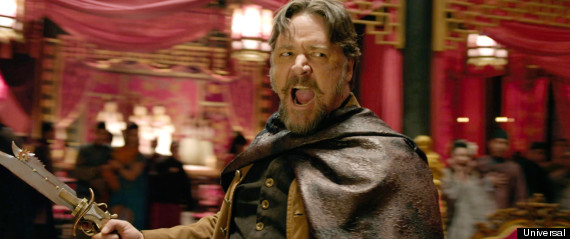 Una de las películas más esperadas para este fin de año es "The Man With the Iron Fists", la cual es presentada por Quentin Tarantino y Eli Roth ("Hostel") aunque es el proyecto añorado del músico RZA, quien protagoniza, co-escribe y dirige, junto a Russell Crowe, Lucy Liu, Jamie Chung y más estrellas del cine asiático como Cung Le y Rick Yune.
Varios clanes se reúnen en un pueblo de China con tal de tener una épica batalla a muerte y quien resulte triunfador, se lleva toda una fortuna en oro. Por esto mismo y juzgando por el avance, presenciaremos unas épicas secuencias de pelea con impresionantes artes marciales, realizadas por los mejores maestros del mundo.
Además, cada personaje es bastante peculiar y con sus propias armas y áreas de dominio. Russell Crowe es "Jack Knife", Lucy Liu tiene un abanico letal, RZA es "el herrero" y hay tanto un hombre con cuerpo de bronce como un ejército de chicas dispuestas a todo. ¿Tal vez Crowe pueda tener un poco de placer antes del trabajo?
Justamente se han lanzado ya los videos dedicados a cada uno de estos personajes, así como el video musical de los Black Keys con RZA, para el tema "The Baddest Man Alive". Míralos a continuación:
PHOTO GALLERY
BEFORE YOU GO
"The Man With the Iron Fists"
PHOTO GALLERY
"The Man With the Iron Fists"
PÓSTER DE "THE MAN WITH THE IRON FISTS":