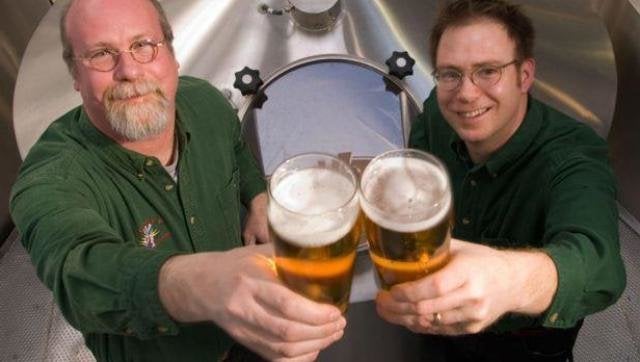 DOWNINGTOWN, Pa. -- Way back in January of 1996, long before it became one of the most acclaimed and successful craft-brewers in the country -- when it was just a dream, a business plan, a few hundred thousand dollars in start-up money and three beer recipes -- Victory Brewing Company underwent a baptism by blizzard.
The company's few employees had been working for over a year to renovate an old Pepperidge Farm factory in this village of fewer than 8,000 people straddling the Brandywine River, 33 miles west of Philadelphia. They'd installed all the necessary brewing equipment and begun work on an adjoining, bare-bones brewpub. They were finally ready to brew their first batch of beer, a traditional Munich-style Oktoberfest. So they boiled their German malt with water from the Brandywine watershed to make the sugary beer precursor called wort. They filtered out the spent malt and added whole-flower hops to the wort to give it flavor.
And then they noticed it was starting to snow. Hard. Blankets of snow, inches piling up by the hour. It would be a hard drive home and it would only get harder over the next few days. The Weather Channel was predicting a blizzard -- and indeed, the entire Northeast would soon end up covered in mounds of snow. But if the Victory employees abandoned the hopped wort now, they'd lose an entire batch, which would set them back weeks and waste dollars they couldn't afford to spare at this tender stage of their careers.
Victory's founders, Ron Barchet and Bill Covaleski, sent everyone else home to their families. They were alone in their new brewery. They would finish this first batch of Victory beer together, just as they started down the path toward opening a brewery 11 years earlier, when they first started experimenting with their own home-brewing kits. The first batches they made were awful, Covaleski said, but they were entranced by the flavorful beers craft brewers like Sierra Nevada in California were just starting to make. They spent the next eight years learning how to become brewmasters, working for a craft brewer in Baltimore and training for a time at the great breweries of southern Germany.
So that snowy night, they knew what to do. They filtered out the hops, added yeast and put the beer in their fermenter, monitoring its temperature as the yeast ate the barley sugars and turned them into alcohol. Once that was done, all they could do was wait the two days it would take for the beer to finish fermenting.
"We were there til four in the morning. But then we drove home to our wives; there was so much snow, but we both made it home safely," Covaleski recalls. "Then we couldn't make it back for two days. But the fermentation control program -- which my wife, who's an engineer, helped us design -- made sure that that first beer fermented just fine."
Once the roads were plowed and the beer had finished fermenting, they went back to the brewhouse and drew their first glasses of lager from the fermenters. It was good. Victory was born.
Sixteen years later, Covaleski, a jolly-looking redhead with a thick auburn beard, sits at a booth in the Victory brewpub, in almost the exact same spot as that first brew. But though the physical distance he's traveled in that time can be measured in feet, the emotional and financial distance he's traveled cannot. Covaleski is surrounded by the trappings of his success. The brewpub, which was initially an afterthought designed to help spread the word about their beer, now employs about 100 people and brings in $2 million a year. And the brewery has become a national phenomenon, selling nearly 100,000 barrels of beer a year, in 28 states, generating another $18 million in annual revenue. Covaleski and Barchet have won awards and the near-unanimous praise of their peers in the rapidly growing craft beer world.
Victory isn't the most radical of the great craft brewers; that mantle probably goes to Sam Calagione's Dogfish Head Brewery, located 100 miles south of Victory headquarters in Milton, Del. And it's not the biggest-selling -- that would be Boston Brewing, which manufactures blockbuster brand Sam Adams and has been around since 1984. But Victory has gained a reputation as perhaps the most consistent craft brewer. It's virtually impossible to find a Victory Beer that isn't perfectly balanced and calibrated for maximum enjoyment, a fact that Covaleski chalks up to his and Barchet's insistence on using only German malt and whole-flower hops, as opposed to the pelletized versions most other brewers use.
"We try to execute on a very high level a number of different traditional beers. We work a lot on the fringe of those traditional beer styles -- all pilsner have hops, but ours is a little hoppier than most," Barchet explained. "We like using raw ingredients that are the best for the process: malt imported from Germany and whole-flower hops, which we think contributes the best aroma. We're very careful to make the product as natural as possible."
Three of Victory's beers -- Prima Pils, a traditional German pilsner; HopDevil, a prodigiously hoppy IPA; and Golden Monkey, a Belgian-style golden ale -- account for 55 percent of its sales, and five others account for the next 20 percent. The rest comes from dozens of lesser-known specialty beers, some of which are available only on draught at the brewpub.
Covaleski says he wishes he could make more of these other beers available to consumers outside Downingtown, but most of his distributors and retailers are only willing to carry a few different kinds of his beer at any given times. Think of it like a bookstore -- with limited shelf space, they're only going to sell the books by a given author that they know will sell, which is why you see Edith Wharton's "Age of Innocence" and "Ethan Frome" in every "W" section, but "Custom of the Country" only in a few.
Moreover, even if he could bypass distributors somehow, his brewing and bottling capacity are currently stretched drum-tight.
"This facility right here is capable of about 100 to 105,000 barrels. We're approaching probably 95 or 96,000 this year and it's getting a little hairy, it's getting a little hard to sleep at night," Covaleski said.
But that limitation, at least, will soon be addressed. In June, Victory will open a huge new brewhouse 14 miles away, in Parkesburg, Pa. on the western branch of the Brandywine. They'll gradually shift all their bottling production to the Parkesburg plant, freeing up the whole Downingtown plant for draught beers.
"What it leaves here in Downingtown is a really finely-tuned R&D plant capable of kicking out basically 90-keg batches," Covaleski said. "So we'll make use of that to try a lot of new things."
In all, the new brewhouse will increase Victory's bottling capacity by 250,000 barrels. By the standards of the mass-market beer world, that's nothing. America's 51 non-craft breweries collectively produce about 95 percent of the total volume of beer brewed in the country -- totaling nearly 190 million barrels. Bud Light, the top-selling beer in the country, moved 265 million cases of beer in 2011. That's the equivalent of 19.5 million barrels, or 56 times the total volume Victory will sell after its expansion.
But the extra capacity will make Victory an even bigger player in the world of craft beer than it already is. Few among even Victory's most established rivals distribute more than half a million barrels of beer a year. Many of the 2,075 craft brewers currently operating in the country opened long after Victory and distribute far less.
For that reason, when Covaleski and Barchet made their annual pilgrimage to the Great American Beer Festival in Denver this October, they felt like they were back in high school, a couple upperclassmen in a sea of freshmen. Though they appreciate the growing interest in craft beer, and are often excited to help new craft brewers learn the ropes, they have to be careful to avoid being too liberal with their disbursement of hard-won trade secrets.
"There's only so many distributors, there's only so many retailers, and brewery numbers keep shooting up," Covaleski said. "So if someone I've never met just taps me on the shoulder and says, I'm going to Pennsylvania, what distributor should I go with? I'll ask them a few questions. Both to figure out who they are, to give them the right advice, but also to see if they might cause trouble for us."
With all the competition, Barchet and Covaleski can never afford to stay the same for long. They make one or two new experimental beers every month, and regularly release new seasonal beers for bottling. The one that's in development now that they're most excited about is called Red Thunder; it's a version of their high-alcohol Baltic Thunder beer aged in red wine barrels to give it a grapey, oaky flavor.
"Our customers continue to amaze me with how adventurous their palates are," Barchet explained. "Frankly, they almost demand that we keep coming out with new beer. It keeps it interesting for all of us at the brewery. We have to stay on our toes to keep everyone interested."