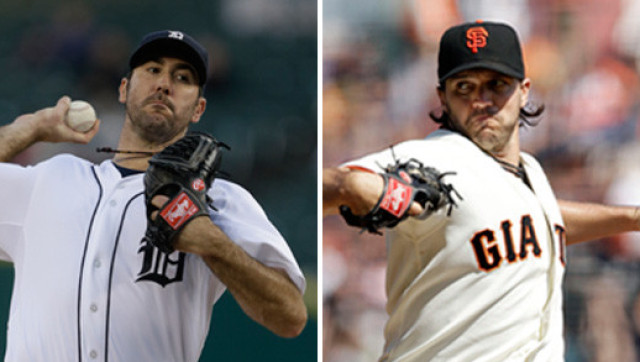 Robert Frost already traced the career arc of Barry Zito.
The author of "The Road Not Taken" once wrote "Poets are like baseball pitchers. Both have their moments. The intervals are the tough things." After struggling mightily since arriving in San Francisco in 2007, Zito has suddenly found himself unexpectedly on the other side of a long interval. The Giants won in his last 11 starts of the regular season and his two postseason starts. With the Giants facing elimination in Game 5 of the NLCS, the 34-year-old lefty who hadn't posted in a winning record in any of his first four seasons in San Francisco, spun 7.2 scoreless frames, keeping the Cardinals off balance with his devastating off-speed pitches and his low-speed fastball. But can he keep it up against the Detroit Tigers in the World Series?
In Game 1, Zito is matched up against a hard-throwing ace for whom Frost may not have felt as much connection. Justin Verlander has dominated almost without interruption throughout his seven-year career. Even the brief blips (11-17 record in 2008) have not been too tough -- or too long. By two quite different roads, these two match up in the 2012 World Series opener. In his masterful NLCS win, Zito's fastball never topped 86 mph on the radar gun, according to MLB Gameday. Meanwhile, Verlander's changeup never dipped below 85 mph and nearly hit 90 mph in his most recent outing.
Game 1 of the 2012 World Series will mark the fourth time in history that two former Cy Young Award winners will face off against each other in the opener, per ESPN Stats & Information. The catch is, Zito happened to win his Cy Young 10 years ago with the Oakland Athletics while Verlander is still in his prime. Until recently, #RallyZito hadn't looked much like the ace he had been early in his career with Oakland when his curveball was every bit as feared as Verlander's fastball is today.
For one night only, who are you taking?
PHOTO GALLERY
World Series Game 1 Cy Young Matchups