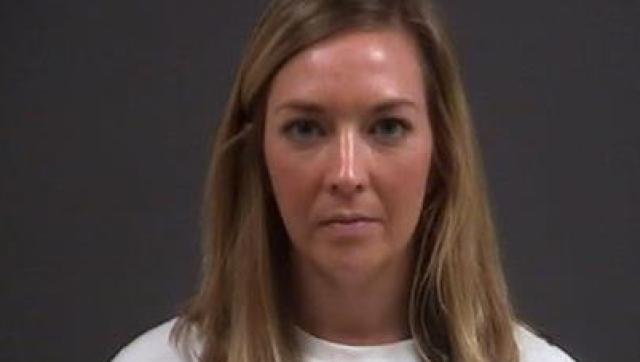 CHESTERFIELD, Va. -- A former substitute teacher for Cosby High School was arrested Wednesday on charges of having sex with an underage student in a classroom after school hours.
Michelle Catherine Walters, 24, also known as Anna Michelle Walters, turned herself in to police after a 12-day investigation that began when a former student, now in college, posted graphic text messages and nude photos of the teacher that he claimed she had sent to him. The postings became a social media and Internet sensation.
However, police on Wednesday said that the former student was 18 at the time of his alleged relationship with Walters, and therefore no charges are being pursued against her involving him.
Instead, police have charged Walters with having an illicit sexual relationship with a student who still attends Cosby. Walters was charged with taking indecent liberties with an underage student while in a supervisory role and having carnal knowledge of a minor.
Police declined to describe the sexual encounter but said the charges stem from a single incident of "inappropriate contact" last spring with the male student in a classroom after hours. However, investigators said the two had exchanged text messages for some period of time.
The sexual contact "was not the only communication" between Walters and the student, said Chesterfield police Lt. Randy Horowitz. The classroom encounter, though, "was the only illegal activity that we're aware of at this time," Horowitz said.
Horowitz declined to specify the length of the relationship or say how it began.
The investigation, which began Oct. 12, initially centered on Walters' alleged relationship with the former student who graduated in June and posted the graphic text messages and photos. But it expanded "to additional students who were minors," Horowitz said.
"By doing interviews at the school, (the alleged victim's) name became known and we went to him and interviewed him," Horowitz said.
The substitute teacher was fired the same day. Police declined to release more information about the student, including his age, to protect his identity and privacy.
"Based on the information we have now, and the people we've talked to, we don't anticipate further charges" against Walters, said Horowitz. "However, certainly if there are new students that come forward (with allegations), then there's always the chance that there will be more charges."
In a letter sent to Cosby parents on Wednesday, the school division said that as a result of its ongoing investigation of the initial allegation, "information has been received outlining additional allegations," which were immediately shared with police.
"From the ongoing school division investigation, very serious allegations have been raised and unanswered questions remain," school officials said in the letter. "The investigation by the school division and law enforcement has already resulted in arrest warrants."
"Any additional information that is substantiated will be subject to appropriate employee discipline and potential prosecution," the letter says. "Any inappropriate contact between any employee and a student will not be tolerated."
Walters was being held in the Chesterfield Jail pending her appearance this afternoon in Chesterfield Juvenile and Domestic Relations District Court.
Walters is the second Chesterfield school employee in a little more than a year to be charged with having a sexual relationship with a county student.
Tracy H. Allanson, 45, a former school bus driver, was sentenced in July to five years in prison with four years suspended on her felony conviction of taking indecent liberties with a minor while in a custodial role. But in an unusual sentencing arrangement, a Chesterfield judge stayed the one-year active prison term, which was tantamount to suspending the entire five-year term.
According to evidence, Allanson had sex with a 15-year-old Chester Middle School pupil in a relationship that spanned two years and began when Allanson was the boy's bus driver. The boy's mother discovered the relationship after finding fully clothed photos of Allanson on her son's computer flash drive that were labeled, "The love of my life."
After a May 6, 2009, sexual encounter in the woods, Allanson continued to communicate with the teen over the next two years -- including after her arrest -- via text messages and emails.
mbowes@timesdispatch.com (804) 649-6450 ___
(c)2012 the Richmond Times-Dispatch (Richmond, Va.)
Visit the Richmond Times-Dispatch (Richmond, Va.) at www.timesdispatch.com
Distributed by MCT Information Services
BEFORE YOU GO