Behind, or in front of, or some chess move away from every great musician, is a great photographer, hunched in the shadows. In the case of the greats of the 1960s and 70s -- whether it was Joplin, Lennon, or Dylan -- that person click-clicking somewhere nearby was probably David Gahr.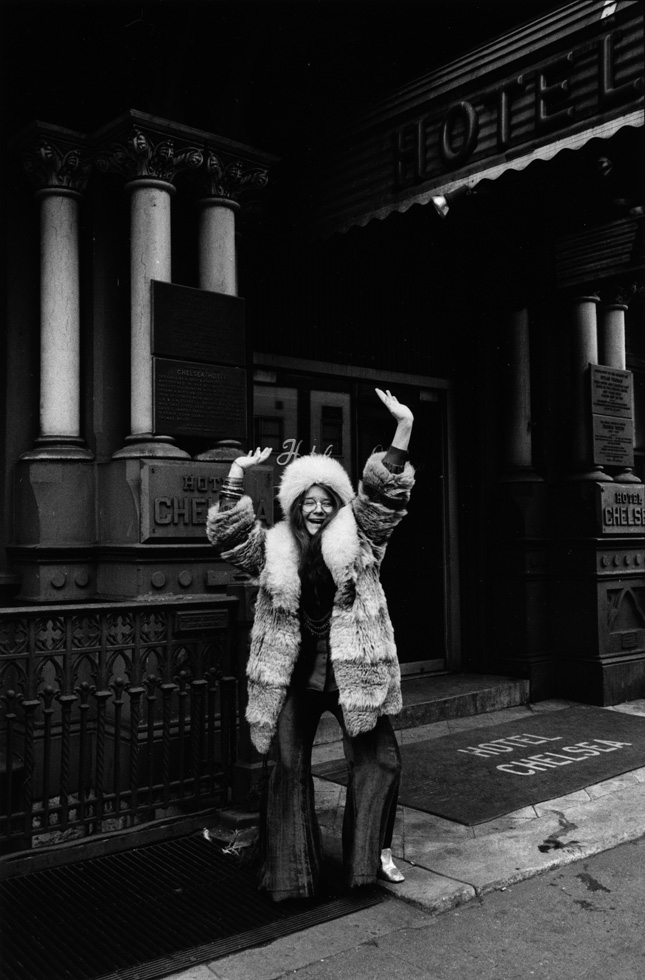 Janis Joplin in March 1969 in front of the Hotel Chelsea in New York City.
Copyright the David Gahr estate
From Oct. 26 until Nov. 11, at the Morrison Hotel Gallery in Soho, a selection of black and white prints by the late, former Time photographer will be displayed to the public for the first time in large format. The candids in "David Gahr, Legacy Of A Master Photographer" include a shot of Joni Mitchell waving from a lawn at the Newport Folk Festival in 1967, and a young Bruce Springsteen outside a New Jersey storefront, swarmed by female teenage fans.
Bruce Springsteen and The Girls, Red Bank, NJ, 1979
Copyright the David Gahr Estate
Even at the Morrison, a gallery that specializes in the ephemera surrounding music legends, photographers usually cede top-billing to those in their lenses. Not so in Gahr's case. An intellectual and gifted writer, he was a bit of a legend himself: a rock star's rock photographer, who famously turned down an offer from a Columbia University doctoral program to work in a Sam Goody store, photographing the celebrities who swung through.
In 2008, after Gahr passed away at the age of 85, the New York Times attributed his popularity among his subjects -- who were often also his friends -- to "what they saw as a desire to elevate rather than merely capture them." It's hard not to do the math on the modern inversion of that balance as seen in today's tabloid industry, where stars are rarely elevated, or even merely captured, but usually caught, drawn and quartered. (Just google "Britney Spears" if you're in need of a primer).
We've posted a preview of the Morrison exhibit below, captioned with quotes by Gahr. Let us know what you think in the comments.
PHOTO GALLERY
David Gahr's Rock & Roll Portraits
These images, as well as others, can be purchased at morrisonhotelgallery.com.
BEFORE YOU GO