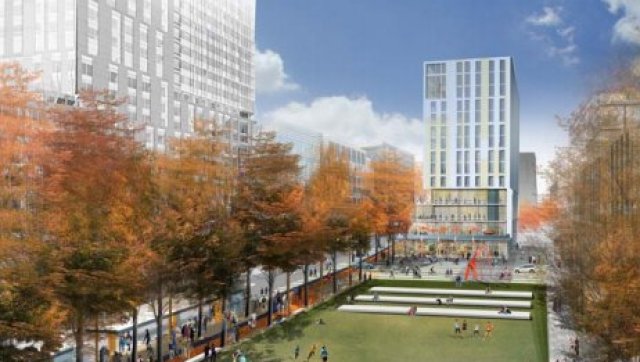 One of the builders working with Forest City East Baltimore Partnership, the master planner for East Baltimore Development Inc., is holding an open house Sunday so that potential homebuyers can get a feel for residences that they expect to construct in the footprint of the 88-acre urban renewal project near Johns Hopkins Hospital.
The Verde Group, a Baltimore-based green builder, plans to sell 25 new homes along East Chase and Mcdonogh streets. The event will offer the opportunity to tour two homes that Verde has already constructed on East Chase Street, said CEO Martin Richardson.
Verde wants displaced residents and current neighbors "to have the opportunity to see what's going on" with the company's home construction plans, Richardson said.
Twenty of the rowhouse-style homes Verde plans, all along Mcdonogh, will be available for $199,000, Richardson said. Five larger properties on East Chase will be listed for $215,000, he said.
The homes are only being sold to owner-occupants, Richardson said, and are available for a 10-year tax credit that caps the properties' assessed value at pre-renovation levels.
Standard in every home will be: a whole-house sprinkler system, a finished basement, environmentally friendly soy-based insulation, a tankless water heater, a reflective "cool roof," skylights, two decks (including one off of the master bedroom), granite countertops, ceramic tile floors and hardwood floors on the main level, Richardson said. Appliances will also be included.
Plus, a 24-hour security contractor and street-cleaning team will be working in the area, he said.
The open house will run from 2 p.m. to 4 p.m. and begins at Verde's offices at 1800 E. Eager St. The two homes that will be toured are 1708 and 1712 E. Chase St., Richardson said.
The East Baltimore Development Inc. project began roughly 10 years ago. So far, one office building and several residential buildings have been completed. Other projects are underway or nearing completion, including a state health lab, a graduate student housing tower and a parking garage.
Have a real estate news tip or experience to share? Email me at steve.kilar@baltsun.com. ___
(c)2012 The Baltimore Sun
Visit The Baltimore Sun at www.baltimoresun.com
Distributed by MCT Information Services
BEFORE YOU GO