The Deluxe Comfort Girlfriend Body Pillow has been described as the "saddest, most inexplicable human being substitute you can buy." Yet, as Gizmodo notes, the price of the curvaceous cushion has risen since 2010 -- and the product has even sold out on at least one website.
The pillow, which can now be purchased on Sears.com for $11.95 (about $2 more than it cost two years ago), is also available on Amazon.
And until recently, the product was also stocked by the Deluxe Comfort website.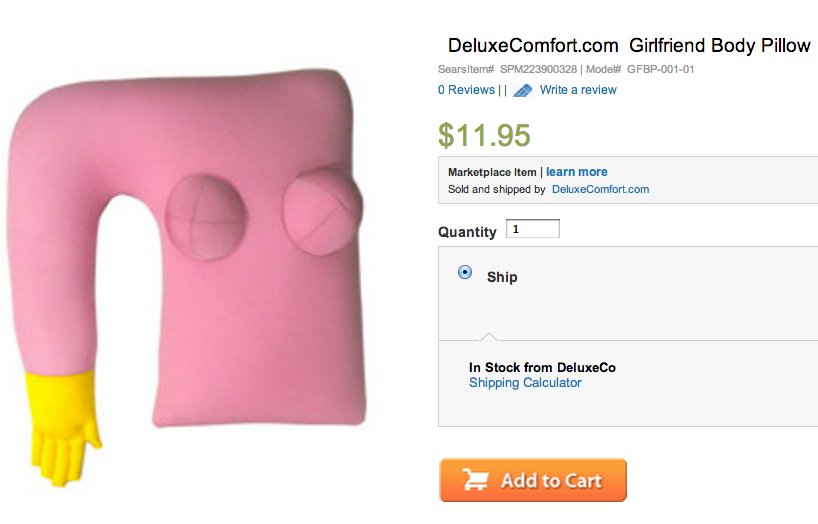 (Credit: Sears.com)
The product description for the pillow, quoted verbatim, claims that the "comfortable pillow recreates the comfort of having your beloved partner" by your side:
Thinking about the fact of sleeping alone produce a isolated feeling, especially if you are used to have a soft and comfortable arm or maybe you are enjoy a better sleep when you locate your neck in your girlfriend or wife's breast [sic]...

Whether your wife is away working or you broke up with your girlfriend, this hug pillow will maintain the comfort of your sleep.
We imagine that this man would like this cushy companion very much. According to one reviewer, the pillow is well-received by male teens.
"This was a gift for my teenage nephew," wrote one reviewer on Amazon.com. "He really likes it, the first one I got did leak some beads but the company went out of their way to fix the problem."
But before you flock online to purchase the pillow (which promises to come with a "breast-like sensation"), be warned that the buxom bed buddy is sold out on DeluxeComfort.com.
For those who'd prefer a disembodied male torso and arm pillow that will hold "you all through the night without snoring or saying a word," there's always the The Original Soft and Comfy Boyfriend Pillow to chase those lonely nights away.
The manly pillow has been given a hearty stamp of approval by at least one satisfied, cuddled customer on DeluxeComfort.com.
"I love this body pillow. The pillow is perfect to cuddle with -- you can just snuggle into it and feel like you are lying with someone. All of my friends love the Boyfriend Body Pillow too. I bought it for my sister for her birthday last year, and then she passed it on to me for my birthday. Next year I'm suppose to pass it on down the line, but don't want to give it away," writes "Gracie."
Would you buy a Boyfriend or Girlfriend pillow for you or a friend? Tell us in the comments below.
BEFORE YOU GO
PHOTO GALLERY
Bizarre Products, 2012 Edition