A new study finds that there is a deep lack of racial diversity among the newspaper journalists writing about some of the biggest political issues of the 2012 campaign.
The 4th Estate, which makes infographics about media trends, looked at 38 different newspaper front pages across the country from January through mid-October of 2012. It found that white journalists dominated when it came to writing feature stories about campaign issues. White reporters wrote 91 percent of stories on the economy, 90.8 percent of stories on social issues and 92.7 percent of stories on foreign policy. Most startlingly, they wrote 98.2 percent of stories on immigration. The topic would seem to call for increased Latino participation, but the study found that Latinos wrote just .2 percent of stories.
The organization did a similar study which found that men are overwhelmingly quoted in stories about women's issues.
Other organizations have looked at front pages to get a picture of how newspapers are representing women overall. (The results were not good.)
Below, see the results of the study: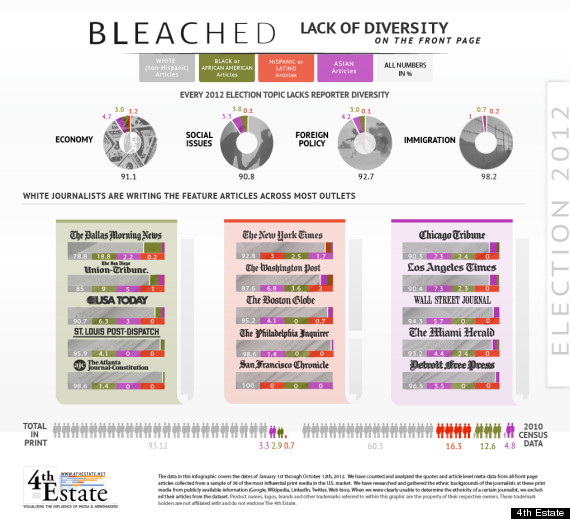 BEFORE YOU GO
PHOTO GALLERY
2012 Newspaper Circulation Numbers