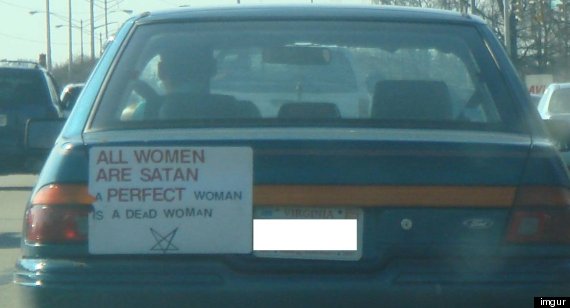 Either this image is a fake, or the driver of this car has some issues.
An apparent photo of a car with a sign that reads "All Women Are Satan, A Perfect Woman Is A Dead Woman," along with an inverted pentagram, was posted to a Reddit forum devoted to strange and twisted news on Friday.
The image received more than 3,400 "upvotes" by time of writing.
However, an analysis by Huffington Post photo editors suggests the photo could be a fake.
First of all, mounting a sign on a car in that location would probably impede, if not rule out, access to the vehicle's trunk.
Secondly, the supposedly hard sign would cast some sort of a shadow, given the position of the sun. Like a vampire, this sign does not. (Now if only it would disintegrate on contact with sunlight...)
Thirdly, let's allow the possibility that it isn't a sign, but a sticker. If that were the case, there would be some kind of shadow or indentation of the sticker as it adheres to the contour of the car. This would be visible in the lettering in particular, but that's not the case here.
In addition, the pixelation around the sign, as well as the photo's general graininess, suggest the image is fake.
However, a 2010 article from the Virginian-Pilot notes that a local man, David Wells, displayed similar handmade anti-women signs on the back of his truck.
Among them was a sign with the same message depicted in the image from Reddit.
"I'm not a psycho," Wells told the Virginian-Pilot, "It's more of a shock value thing for me."
What do you think of the sign? Let us know in the comments below.
(via Reddit)
BEFORE YOU GO
PHOTO GALLERY
Bad Choices