Before he sent out the frightening missive, Gary Szatkowski acknowledged he had second thoughts.
The then-newly named tropical storm Sandy still was 330 miles south of Jamaica, creeping north at a glacial 5 m.p.h. It wouldn't affect the Philadelphia region until some time Sunday, at the earliest.
"Do I want to do this?" the chief meteorologist at the local National Weather Service in Mount Holly recalled asking himself Tuesday morning -- right before he pushed the button on an alert to the region's emergency managers.
Putting his trust in the computer forecast models -- in this case, particularly the European -- that have forever changed the world of weather, he advised them to get ready for a spell of atmospheric riot.
Sandy could still fizzle, but approaching the weekend, Szatkowski's call is looking like a good one.
The government says that Hurricane Sandy has the potential to become a "Frankenstorm," rocking the Mid-Atlantic-Northeast population corridor with gale-force gusts, flooding rains, and sand-erasing waves from Sunday into Halloween.
With leaves still weighing on the trees, high winds would mean massive power outages, said Jeff Masters, meteorologist at the popular Weather Underground website.
"If this pans out," said Szatkowski, "people will be remembering and talking about this a decade from now."
Sandy is forecast to interact with a front crossing the East and become a dangerous "hybrid" -- part tropical, all beast.
With river and stream levels quite low, the full impacts might not be felt until Monday, or even Tuesday. But it already has generated several days of fright.
The Red Cross, Salvation Army, AAA, and county emergency managers all have sounded the alarm bells. Commercial and private meteorologists are saying it is likely to cause $1 billion in damage.
The storm is forecast to parallel the East Coast, then at some point take a left turn and make landfall somewhere between Delaware Bay and Nova Scotia on Monday or Tuesday, said Alex Sosnowski.
Where that happens is the key. If it occurs near Delaware Bay, the Philadelphia region could be in for an all-out disaster, experiencing the storm's maximum effects. If it's somewhere in New England, the main threat would be backlash winds, he said.
The National Hurricane Center's official track has it making landfall somewhere near Long Beach Island, where the effects still would be significant.
One ominous note is that the European model, which latched onto the storm's track as early as Sunday, has consistently called for the Delaware option.
Meteorologists do agree on one thing: It's not a question of whether a storm is coming, it's how bad it will be.
Seeing such a storm threat as far as a week in advance would have been unheard of as recently as seven years ago, said Masters.
The upside is that everyone has time to go out to stock up on candles and batteries.
The downside of this progress is that after days of hype, any given storm can be a bust, undermining the credibility of future forecasts.
With so much notice, storm threats take on a life of their own among participants in social media and the chat boards these days, Szatkowski noted. "That's the nature of the beast," he said.
"I like to say they've called nine out of the last two hurricanes."
This time around, he said, what he sees is troubling.
"The better options seem to have been taken off the table," he said Thursday.
"This is a threat."
Contact Anthony R. Wood at 610-313-8210 or twood@phillyenws.com. ___
(c)2012 The Philadelphia Inquirer
Visit The Philadelphia Inquirer at www.philly.com
Distributed by MCT Information Services
BEFORE YOU GO
PHOTO GALLERY
Hurricane Sandy
11/04/2012 12:26 AM EDT
PHOTO: A Marathon Wedding Proposal, Minus The Marathon
HuffPost's Katie Bindley reports:
Like all the competitors who trained for the 2012 NYC Marathon, Hannah Vahaba will not be running the race this year. But she also will never forget her moment at the finish line. After traveling in from Atlanta, Vahaba picked up a marriage proposal in Central Park on Saturday without having to traverse the 26.2-mile course.
"This is my fiance," said Vahaba, 31, who had tears running down her face as she stood in Central Park where the race would have ended, just moments after Martin O'Donoghue had proposed.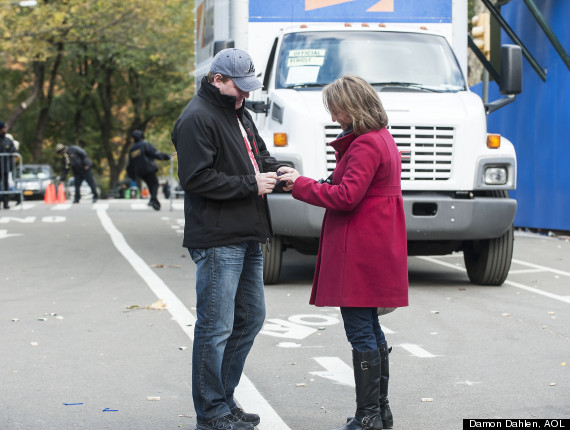 Photo by Damon Scheleur