Just last week a pricey sponge by Yves Klein was slated to rake in $10 million at auction. Well, folks, there is a new Kline in town and he is out to double, or even triple, the expected value of Yves' famous sponge.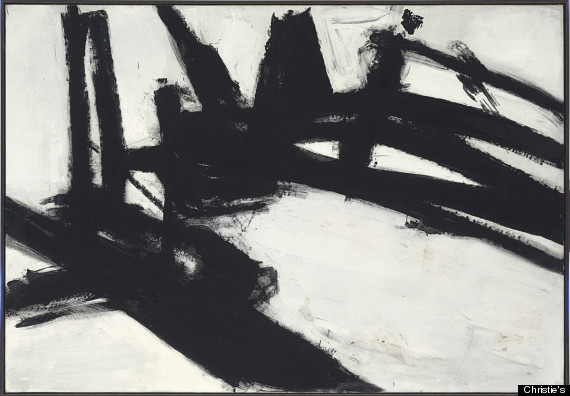 Franz Kline (1910-1962) Untitled, Oil on canvas, 1957
Franz Kline's 1957 untitled work is heading to Christie's this November, where it is expected to bring in a whopping $20 to $30 million. This potential sale will far outshine Kline's current record of $6.4 million via a work entitled "Crow Dancer."
The artist belonged to the Abstract Expressionist movement, known for its spontaneous, athletic and raw abstractions. Compared to contemporaries like Jackson Pollock and Mark Rothko, Kline remains a lesser known figure of the period, however. Yet any assumptions about the worth of even an obscure AbEx work were tossed out the window when a Clyfford Still painting unexpectedly beat Lichtenstein, Klimt and Picasso in November 2011 at Sotheby's, bringing in a cool $61.7 million. According to the Art Market Monitor, because there are so few works available from historically influential artists like Still and Kline, "the markets are lumpy and unpredictable."
The untitled piece belongs to the series of black and white abstractions for which Kline is known, combining aggressive brushstrokes with simple forms reminiscent of Japanese calligraphy. Although his works often begin as representations of architectural forms like bridges, chairs and tunnels, the texture and momentum of the strokes surpass the original image, the rugged lines becoming entities in themselves. Robert Motherwell wrote of the series: "'Who could not be moved by his sense of push and thrust? Kline's great black bars have the tension of a taut bow, or a ready catapult."
"Untitled" will be auctioned on November 14 at Christie's. What do you think, readers? Is Kline's genius worth the cost of a small village? Or would you prefer he add a dash of color to his palette? Let us know in the comments section.
In the meantime, check out the other Klein's famous NSFW 'fire' works below:
BEFORE YOU GO