Officials along the Carolinas coast went on alert Friday morning, as the National Hurricane Center issued a tropical storm watch from the Georgia-South Carolina border north to the Outer Banks.
The watch was issued after hurricane specialists decided the path of Hurricane Sandy will be a bit closer to the Carolinas coast than earlier expected.
Heavy rain, large waves and winds of up to 60 mph are possible Saturday and Sunday for the coast, including the tourists areas of Charleston, the Grand Strand, Wilmington and the Outer Banks.
Duke Energy said Friday morning it is preparing for the storm, putting its crews on alert.
Those Duke crews also might be needed farther to the north, as Hurricane Sandy is predicted to merge with a mainland storm system and form a super storm, slamming into the East Coast late Monday or Tuesday.
Sandy will have little direct impact on the Charlotte area, producing clouds and breezy conditions Saturday and Sunday. However, a few showers from the hurricane's outer wind bands are possible in Union, Anson, Richmond, Stanly and Montgomery counties Saturday. Heavier showers are expected in the Raleigh-Durham and Fayetteville areas, and several inches of rain are predicted on the coast.
As the merged Sandy-inland storm system morphs Monday into a super storm being billed as Frankenstorm, circulation from that system is expected to bring much colder air into the Carolinas and could cause a few snow showers in higher mountain elevations.
At 8 a.m. Friday, the center of Hurricane Sandy was near Great Abaco Island in the Bahamas. The storm was Category 1, with 80 mph sustained winds and was moving northwest at 13 mph. It was about 480 miles south-southeast of Charleston.
National Hurricane Center meteorologist Michael Brennan said Sandy is beginning to change its appearance as it moves north, with the storm's wind field growing larger. That, along with the adjusted track, is why a tropical storm watch was issued for the Carolinas coast, Brennan said.
"The structure of Sandy continues to evolve," Brennan said.
The Hurricane Center says Sandy actually will strengthen a bit later in the weekend, off the Outer Banks, as it merges with a large low pressure system moving eastward across the United States.
Carolinas officials are taking notice.
Duke Energy said its crews are preparing to deal with possible power outages to its customers, which the company gained in the merger with Progress Energy. At a Matthews facility for Duke Energy vehicles, trucks were fueled for possible use this weekend.
Winds are forecast to gust to around 40 or 45 mph for much of the Carolinas coast, from Wilmington south to Charleston. But stronger wind gusts, possibly to 60 mph, are possible for Carteret County and the Outer Banks.
"Along the beaches, the most significant overwash and flooding will be north of Hatteras," said Bob Frederick, of the National Weather Service office in Morehead City.
Frederick said tides of 3 feet or more above average, along with large waves, are forecast to batter the coast. As the storm moves north of the Outer Banks on Sunday, winds will shift around to the northwest and cause sound-side flooding, he said.
Between 5 and 7 inches of rain are forecast along the beaches, with 2 to 4 inches inland.
Farther to the south, National Weather Service meteorologists are predicting 1 to 2 inches of rain and wind gusts of 40 mph for the Myrtle Beach area. ___
(c)2012 The Charlotte Observer (Charlotte, N.C.)
Visit The Charlotte Observer (Charlotte, N.C.) at www.charlotteobserver.com
Distributed by MCT Information Services
BEFORE YOU GO
PHOTO GALLERY
Hurricane Sandy
11/04/2012 12:26 AM EDT
PHOTO: A Marathon Wedding Proposal, Minus The Marathon
HuffPost's Katie Bindley reports:
Like all the competitors who trained for the 2012 NYC Marathon, Hannah Vahaba will not be running the race this year. But she also will never forget her moment at the finish line. After traveling in from Atlanta, Vahaba picked up a marriage proposal in Central Park on Saturday without having to traverse the 26.2-mile course.
"This is my fiance," said Vahaba, 31, who had tears running down her face as she stood in Central Park where the race would have ended, just moments after Martin O'Donoghue had proposed.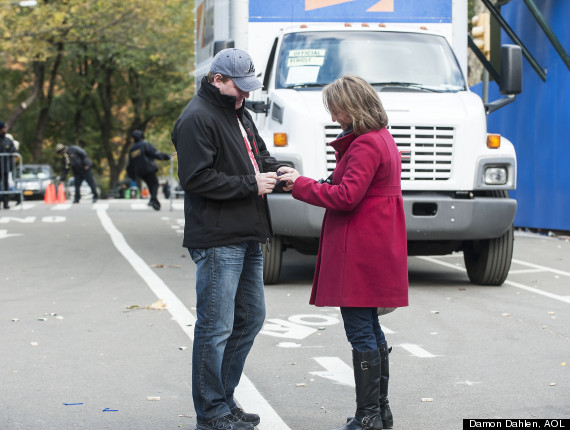 Photo by Damon Scheleur