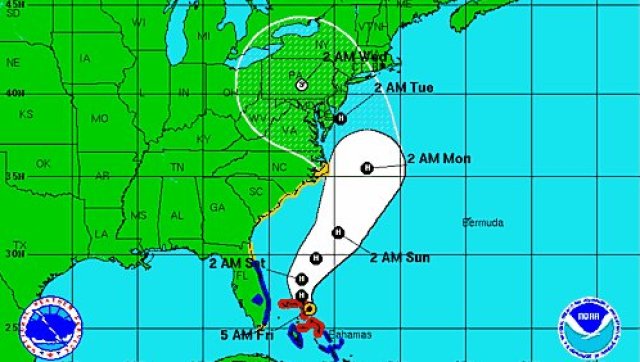 RICHMOND, Va. -- Some people are calling Hurricane Sandy "Frankenstorm," but it's unclear how monstrously the strange storm will treat Virginia.
A lot depends on whether Sandy's center stays well off the coast or rides in close to Virginia. Experts say we should prepare for heavy rain, stiff winds and coastal flooding Sunday and early Monday.
"It has the potential for significant impacts," said Mike Montefusco, a National Weather Service meteorologist.
For localities by the coast, the forecast called for 4 to 6 inches of rain and minor to moderate flooding. Winds could gust from 40 to 60 mph.
The Richmond area should get 2 inches of rain or more and gusts up to about 40 mph.
The forecast could change as the storm gets nearer and its path becomes clearer.
It looked Thursday night like Sandy would pass 150 miles or more off the Virginia coast. If it comes closer, it will hit Virginia harder.
Sandy is expected to collide with a cold front when it reaches the mid-Atlantic region and become a potentially dangerous nor'easter. That meshing of storms prompted some observers to dub Sandy "Frankenstorm."
David Tolleris, a private forecaster in Chester, said Sandy should create winds strong enough to cause serious power blackouts in central and eastern Virginia.
"It's possible there could be disruptions that are pretty impressive," Tolleris said.
Localities around the Chesapeake Bay could get more than 8 inches of rain and gusts up to 80 mph, Tolleris said.
The Richmond area could get 3 to 8 inches of rain and gusts up to 70 mph, he said.
Computer models, or simulations, show the storm moving up the Atlantic coast and then hooking to the northwest, Tolleris said.
That shift could happen -- and the storm could be at its worst -- over the Delmarva Peninsula, causing major problems for Virginia's Eastern Shore and Northern Neck, Tolleris said.
Or the storm could make its shift farther north, sparing Virginia a direct hit, Tolleris said. "The question is, where does it turn sharply inland?"
A nor'easter carries colder air than a hurricane. Sandy in its nor'easter stage could drop snow in Virginia's mountains as well as in West Virginia and southwestern Pennsylvania, Tolleris said.
Sandy, in the Caribbean Thursday night, was expected to be moving up off the southeastern coast of Florida today.
The Federal Emergency Management Agency advised people in the storm's possible path to put together an emergency plan and kit.
The basic kit should include 1 gallon of water per person per day, at least a three-day supply of food, a battery-powered radio, a flashlight with extra batteries, a first-aid kit, toiletries and medications.
"A hurricane isn't a point on a map," said FEMA Administrator Craig Fugate. "It's a big storm, and its impact will be felt far from the center."
Richmond city officials ask that residents stay home during the storm.
Federal and private weather forecasters said there is a good chance much of the Atlantic coast will get hit with gale-force winds, heavy rain, flooding and maybe even snow early next week through Halloween on Wednesday.
rspringston@timesdispatch.com (804) 649-6453 ___
(c)2012 the Richmond Times-Dispatch (Richmond, Va.)
Visit the Richmond Times-Dispatch (Richmond, Va.) at www.timesdispatch.com
Distributed by MCT Information Services
BEFORE YOU GO
PHOTO GALLERY
Hurricane Sandy
11/04/2012 12:26 AM EDT
PHOTO: A Marathon Wedding Proposal, Minus The Marathon
HuffPost's Katie Bindley reports:
Like all the competitors who trained for the 2012 NYC Marathon, Hannah Vahaba will not be running the race this year. But she also will never forget her moment at the finish line. After traveling in from Atlanta, Vahaba picked up a marriage proposal in Central Park on Saturday without having to traverse the 26.2-mile course.
"This is my fiance," said Vahaba, 31, who had tears running down her face as she stood in Central Park where the race would have ended, just moments after Martin O'Donoghue had proposed.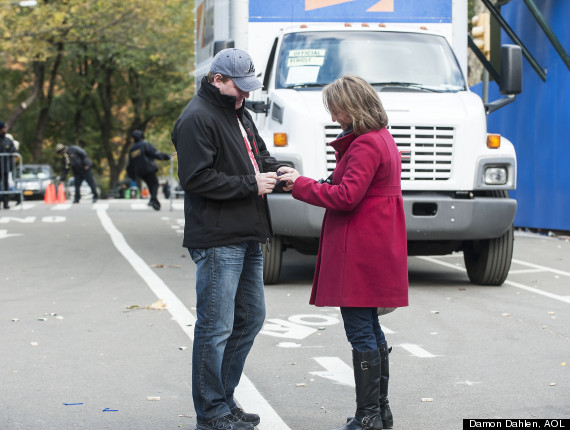 Photo by Damon Scheleur