The International Space Station flew above Hurricane Sandy on Thursday, capturing some dramatic images of the storm as it moved northward toward Great Exuma Island, the Bahamas.
According to NASA, the storm achieved 105-mph sustained winds Thursday, making it a Category 2 hurricane at the time. Sandy raged through the Bahamas early Friday morning, and would kill dozens of people across the Caribbean, the Associated Press reported.
SCROLL FOR PHOTOS, LIVE UPDATES
Update: Oct. 29, 10:25 a.m. -- Hurricane Sandy bore down on the Eastern seaboard Monday, forcing mandatory evacuations, mass transit shutdowns and public school closings from Washington, D.C. to Boston, Mass.
Federal offices in the Washington area were closed Monday, with the exception of emergency personnel. President Barack Obama signed emergency declarations for six states ahead of the storm's arrival.
As of Monday, at least 7,500 flights were cancelled due to the storm, stranding domestic and international travelers and causing delays as far away as Europe and Asia.
While several models of the 900-mile megastorm's path exist, Sandy is projected to make landfall late Monday night in the vicinity of Atlantic City, N.J.
The Christian Science Monitor reports that flooding in the Atlantic City area began early Monday with the arrival of high tide.
Previously:
NSN reports competing models for the storm's path. A European model has Sandy turning inland on the United States' central Atlantic coast, into Delaware Bay, whereas the American GFS model predicts the storm would turn inland further north.
Preparing for the latter model, Vermont Emergency Management officials warned people to brace for the storm's impact. The state is still recovering from damage caused by 2011's Tropical Storm Irene, the most significant natural disaster to hit the state in almost a century.
Some sources predict that Sandy could become boxed in by jet stream winds in the Northeast, creating a hurricane-winter storm hybrid, or "Frankenstorm."
For news and updates on Sandy's progress, check out live blog coverage on The Huffington Post.
LOOK:
PHOTO GALLERY
Hurricane Sandy
Live Updates:
BEFORE YOU GO
11/04/2012 12:26 AM EDT
PHOTO: A Marathon Wedding Proposal, Minus The Marathon
HuffPost's Katie Bindley reports:
Like all the competitors who trained for the 2012 NYC Marathon, Hannah Vahaba will not be running the race this year. But she also will never forget her moment at the finish line. After traveling in from Atlanta, Vahaba picked up a marriage proposal in Central Park on Saturday without having to traverse the 26.2-mile course.
"This is my fiance," said Vahaba, 31, who had tears running down her face as she stood in Central Park where the race would have ended, just moments after Martin O'Donoghue had proposed.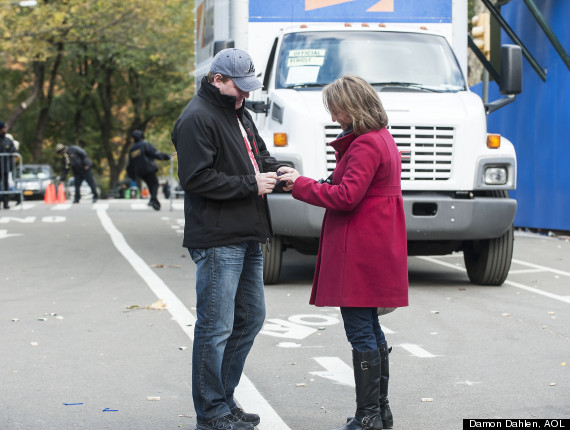 Photo by Damon Scheleur