With a name like Chapel Bar & Bistro, one can assume its advertisements would take on a religious motif. What some may interpret as clever allusion, others may interpret as blasphemy.
Chapel Bar & Bistro, located in Ponsonby, a suburb of Auckland, New Zealand, is celebrating its seventh anniversary. In honor of "seven years of almighty nights," Chapel released an ad depicting "Jesus" and "Mary" in a compromising position.
SCROLL TO VIEW THE AD
In the ad, a rocker-type man with long, shaggy hair and layers of bracelets portrays "Jesus." He lays sprawled out on messy bed strewn with tangled sheets. His arms are stretched and his feet are crossed, echoing the crucifixion. Beside him lays "Mary," curled up at his torso with her hands folded in a sort-of prayer and a blue sheet covering her head and body. Clothes are tossed around the room and a half-eaten pizza is left in a box on the floor.
"If you're a devout Christian, prepare to get your knickers knotted," quipped BuzzFeed's Copy Ranter, dubbing it the "Most Blasphemous Ad of the Week."
Some found the ad, designed by the Ogilvy branch in New Zealand, more clever than controversial. "Although the Chapel Bar & Bistro ad campaign might be considered controversial, with some rocker man posing as Jesus on the cross as his one night stand bows reverently like Mother Mary, the blanket strategically covering each one, it is also very creative," wrote Trend Hunter's Meghan Young.
Chapel has used religious imagery in its advertisements before. Previous ads showed Jesus and Mary in stained glass with pizza pies as halos and dinner and drinks deals written in scripture scrolls.
The shocking ads may be working. Owner Luke Dallow says Chapel has been "creating miracles since 2005," with a string of devoted celebrity and local fans, and various awards to its name, according to Voxy.
Click here to see a collection of other shocking religious advertisements, courtesy of BuzzFeed.
LOOK: Chapel Bar & Bistro's Jesus and Mary ad.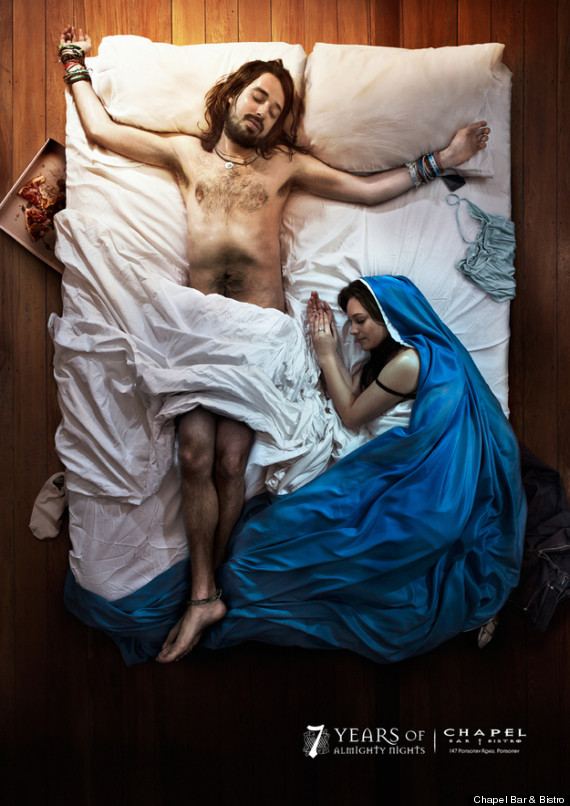 [h/t BuzzFeed for the find.]
Click through the slideshow to see most and least Christian cities in the United States:
PHOTO GALLERY
Most and Least Christian Cities
BEFORE YOU GO