As Hurricane Sandy moves up the East Coast, devastating photos are emerging from the path of destruction it has left in its wake.
Hurricane Sandy claimed dozens of lives in the Caribbean. Jamaica, Cuba and the Bahamas were each hit by the storm, but Haiti took the brunt of it, according to the Associated Press. The region saw the most extensive damage and the majority of deaths.
Story continues below the Hurricane Sandy photos
PHOTO GALLERY
Hurricane Sandy
Haitians continue to struggle from the 2010 earthquake, and concerns are mounting once again. "The situation is disastrous all over the country," Prime Minister Laurent Lamothe said, according to the Miami Herald. He is asking for supplies. "We are doing our best, but we need help to deal with this."
As Hurricane Sandy closes in on the U.S., officials are warning that it could be worse than last year's Hurricane Irene. Regions will be threatened by coastal flooding, leaving low-lying areas particularly vulnerable.
Track Hurricane Sandy with Google Maps

BEFORE YOU GO
11/04/2012 12:26 AM EDT
PHOTO: A Marathon Wedding Proposal, Minus The Marathon
HuffPost's Katie Bindley reports:
Like all the competitors who trained for the 2012 NYC Marathon, Hannah Vahaba will not be running the race this year. But she also will never forget her moment at the finish line. After traveling in from Atlanta, Vahaba picked up a marriage proposal in Central Park on Saturday without having to traverse the 26.2-mile course.
"This is my fiance," said Vahaba, 31, who had tears running down her face as she stood in Central Park where the race would have ended, just moments after Martin O'Donoghue had proposed.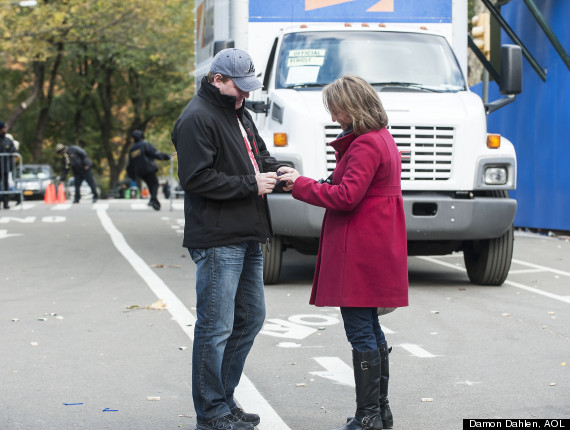 Photo by Damon Scheleur