 Virginia will not reverse Interstate 64 lanes or order evacuations to get coastal residents away from Hurricane Sandy, Gov. Bob McDonnell said today.
Local governments could order evacuations if necessary, McDonnell said during an afternoon news briefing.
"Given the track (of the storm) we expect no widespread evacuations," McDonnell said.
Sandy is expected to make landfall Monday night by the Delaware Bay or in New Jersey.
But Sandy is such a huge storm that it will reach well into Virginia, the governor said.
McDonnell said "minor impacts" should affect Virginia Sunday, with the peak of the storm coming from Sunday night, Monday and into Tuesday.
"Our biggest concern remains the fact that this is going to be a strong storm of lengthy duration," McDonnell said.
McDonnell once again urged Virginians to prepare kits of food, flashlights and other items and to check on friends and relatives during the storm.
Cold weather is expected to follow the storm, so people should make sure they have blankets and other items to keep them warm if they lose power, McDonnell said.
State police and National Guard member are prepared to respond to emergencies caused by the storm, McDonnell said.
Charles Kilpatrick, chief deputy commissioner of the Virginia Department of Transportation, said VDOT crews and contractors s were prepared for flooding, high winds and, in western Virginia, snow.
Michael M. Cline, Virginia's coordinator of emergency management, said, "I think we're about as ready as ready as we are going to be." ___
(c)2012 the Richmond Times-Dispatch (Richmond, Va.)
Visit the Richmond Times-Dispatch (Richmond, Va.) at www.timesdispatch.com
Distributed by MCT Information Services
BEFORE YOU GO
PHOTO GALLERY
Hurricane Sandy
11/04/2012 12:26 AM EDT
PHOTO: A Marathon Wedding Proposal, Minus The Marathon
HuffPost's Katie Bindley reports:
Like all the competitors who trained for the 2012 NYC Marathon, Hannah Vahaba will not be running the race this year. But she also will never forget her moment at the finish line. After traveling in from Atlanta, Vahaba picked up a marriage proposal in Central Park on Saturday without having to traverse the 26.2-mile course.
"This is my fiance," said Vahaba, 31, who had tears running down her face as she stood in Central Park where the race would have ended, just moments after Martin O'Donoghue had proposed.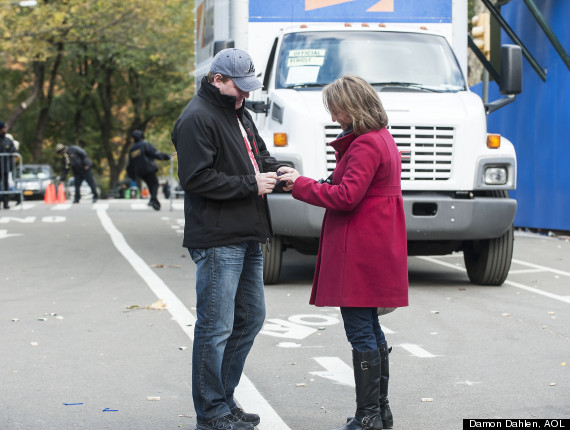 Photo by Damon Scheleur