We'd like to say we're far past being shocked by what Miley Cyrus wears, but we've got to hand it to the girl: she sure knows how to turn heads.
Ever since the 19-year-old chopped off her long hair, she's been stretching her legs in the style department. A goth look for the grocery store? Fine with Miley. A shaved head on the red carpet? Even better. No top? No problem. Most recently, the newly-engaged star stepped out in Los Angeles in a particularly interesting look.
While on her way to a recording studio on Friday, the future Mrs. Liam Hemsworth tried loud, printed leggings, a crop top, a gold "Miley" necklace and some of the chunkiest thigh-high boots we've ever seen (her shoe of choice, apparently). And while we have no problem with fashion experimentation, something about this look is a little overwhelming for us. Trend overload, perhaps?
We may remain unconvinced of the merits of this outfit, but what about you? Check out the photo and tell us what you think.
PHOTO: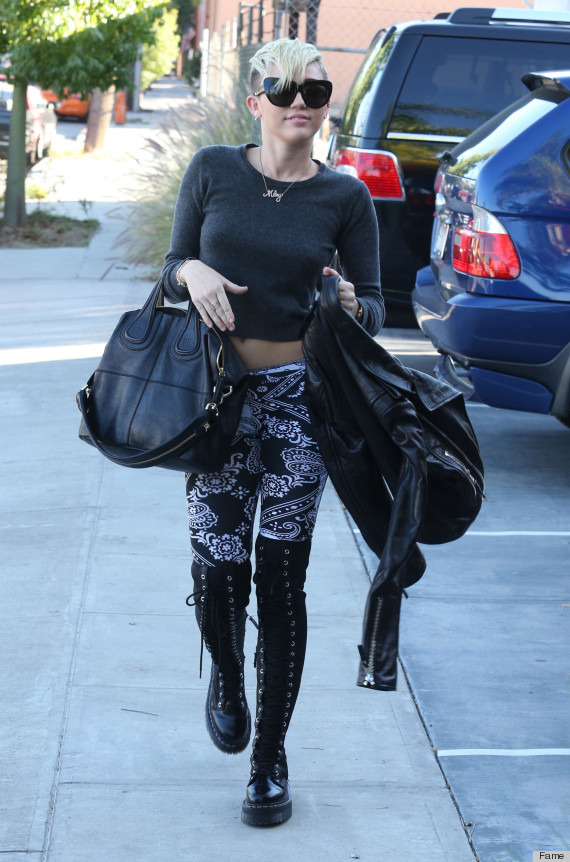 Check out some more super-trendy items. Would you wear any of these?
PHOTO GALLERY
Celebrities In Current Trends
Want more? Be sure to check out HuffPost Style on Twitter, Facebook, Tumblr, Pinterest and Instagram at @HuffPostStyle.