RICHMOND, Va. -- GOP presidential nominee Mitt Romney and Vice President Joe Biden have scrapped political appearances scheduled for this weekend in Virginia Beach as all eyes watch the storm track of Hurricane Sandy.
Romney canceled his Sunday night rally in Virginia Beach and Biden canceled an appearance slated for today in the same city.
Biden was to hold an event with his wife, Jill Biden, and son Beau. They are to still appear at an event this afternoon in Lynchburg.
"This change in schedule is being taken out of an abundance of caution to ensure that all local law enforcement and emergency management resources can stay focused on ensuring the safety of people who might be impacted by the storm," the Obama campaign said in a release.
Romney's campaign says it will reschedule his event at a later date. The Republican nominee is slated to campaign Sunday morning in western Prince William County and to hold a rally at the University of Richmond that afternoon.
The storm is interrupting stump schedules at a critical point in the campaign, with less than two weeks until Election Day.
President Barack Obama is scheduled to appear at a rally with former President Bill Clinton on Monday in Prince William County. It's part of a three-state tour that will also take them to Orlando, Fla., and Youngstown, Ohio.
The University of Richmond on Friday released details about parking for Romney's rally there on Sunday. The school will provide free parking and shuttle service from the Anthem Blue/Cross Blue/Shield lot, at 2015 Staples Mill Road, to the school.
Buses will leave Anthem parking lots starting at 11 a.m. and will run back to the lots after the program. . There will be limited parking on the UR campus. Most parking lots will be open parking and within walking distance to the Robins Center, according to the school.
The Robins Center doors will open at 2:15 p.m. Romney is scheduled to speak at 4:40 p.m.
University officials are asking people to be prepared for rain prior to entry into the Robins Center. They encourage people to bring ponchos or raincoats because umbrellas will not be allowed into the event.
Attendees will go through airport-like screening upon entering the building. No large bags, sharp objects, liquids, food or signs will be allowed into the event. Cameras are allowed.
omeola@timesdispatch.com (804) 649-6812 ___
(c)2012 the Richmond Times-Dispatch (Richmond, Va.)
Visit the Richmond Times-Dispatch (Richmond, Va.) at www.timesdispatch.com
Distributed by MCT Information Services
BEFORE YOU GO
11/04/2012 12:26 AM EDT
PHOTO: A Marathon Wedding Proposal, Minus The Marathon
HuffPost's Katie Bindley reports:
Like all the competitors who trained for the 2012 NYC Marathon, Hannah Vahaba will not be running the race this year. But she also will never forget her moment at the finish line. After traveling in from Atlanta, Vahaba picked up a marriage proposal in Central Park on Saturday without having to traverse the 26.2-mile course.
"This is my fiance," said Vahaba, 31, who had tears running down her face as she stood in Central Park where the race would have ended, just moments after Martin O'Donoghue had proposed.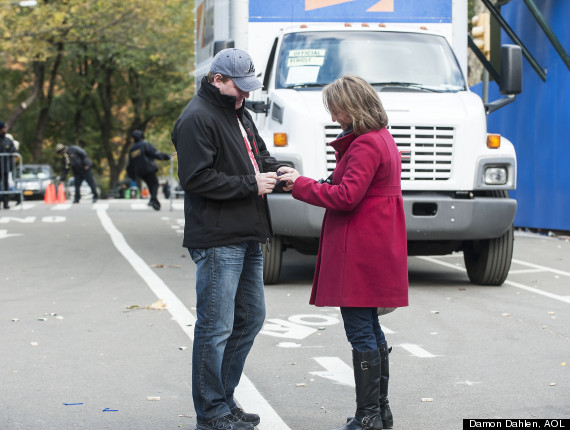 Photo by Damon Scheleur
PHOTO GALLERY
Hurricane Sandy