Football is a game of inches. If you need proof then just go ask Dez Bryant and the Dallas Cowboys, who came within a hand length of shocking their NFC East rivals with a comeback win.
For a brief moment, Cowboys quarterback Tony Romo seemed to have redeemed himself for the four interceptions he threw (three in the first half) with a 37-yard touchdown heave to Dez Bryant. The mercurial receiver leapt and caught the ball in the back of the end zone, appearing to give Dallas a 30-29 lead with 10 seconds remaining in the fourth quarter. But that lead disappeared after the officials reviewed the play and ruled that part of Bryant's hand landed out of bounds.
Replays revealed Bryant's finger tips on his right hand touching out of bounds before he landed with possession of the ball. The referees revoked the touchdown.
The Cowboys were trailing 29-24 in the final minute as Romo led the offense down to the Giants' 37-yard line. On 2nd and 6, Bryant used a double move to fake out the Giants' secondary and give Romo an open target in the end zone. Romo launched a pass to the back of the end zone and the former Oklahoma State star caught the ball as he rose up between two New York defenders. The referees called the play a touchdown on the field.
But every NFL scoring play must be reviewed. After the reversal, the Cowboys were unable to get back into the end zone as the Giants held on to win 29-24. New York also stays undefeated at Cowboys Stadium.
But was the reversal of Bryant's touchdown the right call? Scroll down for a closer look.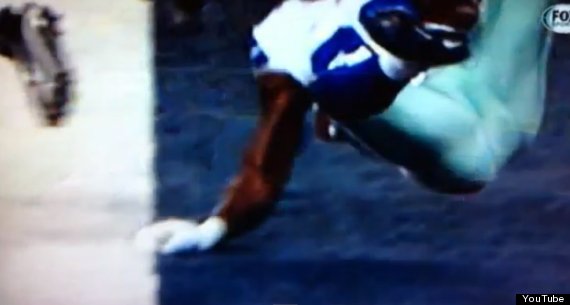 BEFORE YOU GO