WASHINGTON, Oct 28 (Reuters) - President Barack Obama warned on Sunday that Hurricane Sandy was a "serious and big storm" and called on East Coast residents to heed the orders of state and local officials to protect themselves from its onslaught.
Obama, speaking after a briefing at the federal government's storm response center in Washington, said officials had assured him that they had all the resources they needed in place, and he stressed that "it is important for us to respond big and to respond fast" to the hurricane's onslaught.
"We're going to cut through red tape and we're not going to get bogged down in a lot of rules," said Obama, who was having to juggle both is re-election bid and his efforts to stay on top of the storm's impact just nine days before Election Day.
More from HuffPost:
Via a White House press release, Obama added that his first message to Americans "to take this very seriously and follow the instructions of your state and local officials, because they are going to be providing you with the best advice in terms of how to deal with this storm over the coming days."
BEFORE YOU GO
PHOTO GALLERY
Hurricane Sandy
11/04/2012 12:26 AM EDT
PHOTO: A Marathon Wedding Proposal, Minus The Marathon
HuffPost's Katie Bindley reports:
Like all the competitors who trained for the 2012 NYC Marathon, Hannah Vahaba will not be running the race this year. But she also will never forget her moment at the finish line. After traveling in from Atlanta, Vahaba picked up a marriage proposal in Central Park on Saturday without having to traverse the 26.2-mile course.
"This is my fiance," said Vahaba, 31, who had tears running down her face as she stood in Central Park where the race would have ended, just moments after Martin O'Donoghue had proposed.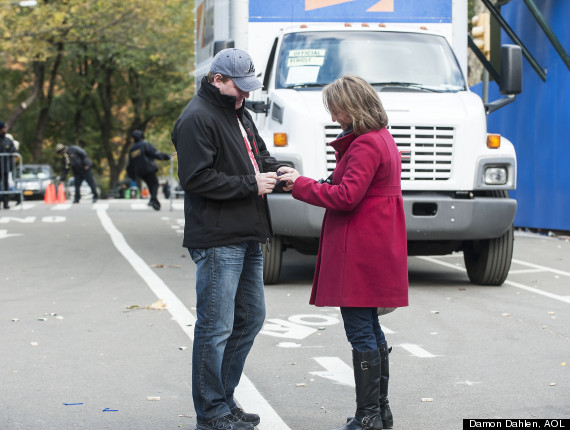 Photo by Damon Scheleur