WASHINGTON -- The Washington Metropolitan Area Transit Authority announced Monday afternoon that regular Metrorail and Metrobus service will not resume Tuesday morning. The transit agency will assess the weather situation on Tuesday morning and restore service only when it is safe to do so.
Details from WMATA:
Metrorail and Metrobus service will not resume service Tuesday morning. An announcement on when service may be restored will be made after Metro is able to assess damage and weather conditions in the morning. Metro personnel will need to perform a comprehensive damage assessment, including inspections of track, bridges, aerial structures, stations and facilities. Metrorail service restoration is also contingent on adequate commercial power to support operations and repair of any storm-related damage. For Metrobus, service restoration will vary by route and depend on road conditions.
MetroAccess service will remain suspended all day Tuesday.
PHOTO GALLERY
Hurricane Sandy
11/04/2012 12:26 AM EDT
PHOTO: A Marathon Wedding Proposal, Minus The Marathon
HuffPost's Katie Bindley reports:
Like all the competitors who trained for the 2012 NYC Marathon, Hannah Vahaba will not be running the race this year. But she also will never forget her moment at the finish line. After traveling in from Atlanta, Vahaba picked up a marriage proposal in Central Park on Saturday without having to traverse the 26.2-mile course.
"This is my fiance," said Vahaba, 31, who had tears running down her face as she stood in Central Park where the race would have ended, just moments after Martin O'Donoghue had proposed.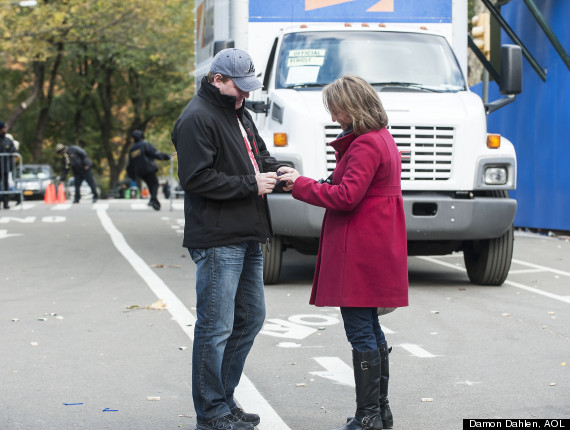 Photo by Damon Scheleur
BEFORE YOU GO