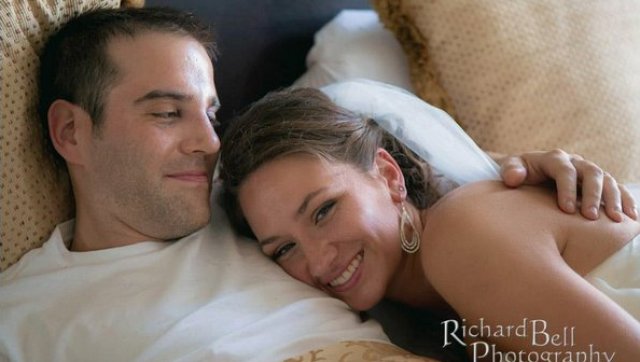 When Chad Dennis lost control of his car, flipping four times, and landing upside down in a marsh on the day before his wedding, family and friends assumed the ceremony would be cancelled.
Dennis and his bride Holly Ryffel, however, decided to put their vows to the test, proving to everyone what it means to love someone "for better or for worse, in sickness and in health."
According to the Chive, on October 18, the night before his wedding, Dennis was driving on a badly-lit gravel road on St. James Island in South Carolina when he lost control of his car.
The car began filling with water, but Dennis was able to free himself and walk the 70 yards back to the road.
Not realizing that he had sustained a serious injury in the crash, Dennis walked a mile and a half back home. It was only when he got to his house that Dennis felt a severe pain in his back. He called his mother who took him to the hospital where doctors informed him that he had fractured his L1 vertebrae.
Doctors warned Dennis that his wedding would have to be cancelled.
"I'm sorry, that's not an option. I'm getting married tomorrow," Dennis replied, according to BuzzFeed.
He somehow convinced doctors to let an ambulance move him to a hotel room at the Francis Marion Hotel.
Dennis and Ryffel arranged for the wedding videographer to film the wedding in Dennis' hotel room. With the groom draped in a tux over his bedcovers, Dennnis and Ryffel exchanged their vows.
An hour later, the congregation in the church was informed about the slight change of plans and the video of the marriage ceremony was played.
"There were many tears shed watching the video of Chad and Holly say their I Do's just minutes before upstairs," wedding photographer Wanda Cavazos wrote in her blog.
"Chad and Holly truly showed what it means when you say the vows, for better or worse, in sickness and in health," she added.
BEFORE YOU GO
PHOTO GALLERY
A Love Story In 13 Pictures