Hurricane Sandy's forecast predicts intense winds for much of the mid-Atlantic and Northeast on Tuesday, with the highest sustained winds expected to hit Maryland, Delaware, southeastern Pennsylvania and southern New Jersey.
NOAA data interpolated by The Huffington Post predicts gusts of 70 mph in Asheville, N.C., and 60 mph in Washington, D.C. and Baltimore for tomorrow afternoon as the 900-mile megastorm moves inland.
Scroll For Photos, Live Updates
The Cleveland area may also experience sustained winds in excess of 40 mph as Sandy bisects Pennsylvania and moves northward across western New York state.
On Monday, gusts exceeding 60 mph were reported in parts of Maryland, as the mid-Atlantic region braces for the storm's landfall, which is expected to occur in the vicinity of Atlantic City, N.J. early Monday evening.
The Washington Post reports that sustained wind speeds at Sandy's core reached 90 mph by 2:20 p.m., Monday.
Tropical storm-force winds extend almost 500 miles from Sandy's center, making it almost 1,000 miles in diameter, NASA reports.
In addition to dangerous winds, flooding due to rain and the storm's surge has already been reported in Atlantic City, where parts of the seaside town's iconic boardwalk have reportedly washed away.
Fox News reports that an 11-foot storm surge threatens to flood lower Manhattan, as well as low-lying regions of Long Island.
LOOK:
PHOTO GALLERY
Hurricane Sandy
BEFORE YOU GO
11/04/2012 12:26 AM EDT
PHOTO: A Marathon Wedding Proposal, Minus The Marathon
HuffPost's Katie Bindley reports:
Like all the competitors who trained for the 2012 NYC Marathon, Hannah Vahaba will not be running the race this year. But she also will never forget her moment at the finish line. After traveling in from Atlanta, Vahaba picked up a marriage proposal in Central Park on Saturday without having to traverse the 26.2-mile course.
"This is my fiance," said Vahaba, 31, who had tears running down her face as she stood in Central Park where the race would have ended, just moments after Martin O'Donoghue had proposed.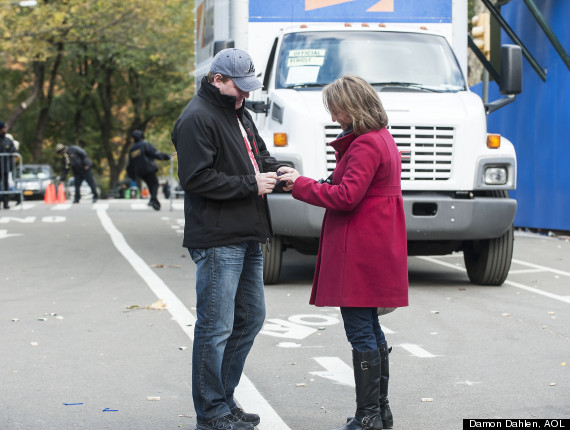 Photo by Damon Scheleur