Hurricane Sandy is, by most accounts, already a historic storm. Not only is it possibly the largest storm to ever hit the East Coast, but Hurricane Sandy is also only one of at least 68 storms the Northeast coastline has seen in more than 150 years.
As of 2010, the Northeast coastline, which includes a stretch of land from Virginia to Maine, has been hit by only 68 hurricanes since record-keeping began in 1851, according to data from the National Hurricane Center. This season alone, 19 named storms have formed, 10 of which were hurricanes. Hurricane Sandy first formed as a tropical storm in the Caribbean on Oct. 22, before traveling up the Atlantic coast and hooking left, honing on the East Coast.
Sandy comes just over a year after Hurricane Irene hit the Northeast.
"We had a busy start to the hurricane season — 13 named storms by the end of September, though only Isaac did anything to the U.S.," Paul Knight, a meteorologist at Penn State University, told ABC News. "After that there was a lull. Then the MJO [Madden-Julian Oscillation] began to act up."
The Madden-Julian Oscillation is the interannual fluctuation of atmospheric pressure over the equatorial Indian and western Pacific oceans, according to the online Encyclopedia Britannica.
This phenomenon comes in the form of alternating cyclonic and anticyclonic regions that enhance and suppress rainfall, respectively, and flow eastward along the Equator. The MJO occurs every 40–50 or 30–60 days, and it can be detected in the winds that occur in the planetary boundary layer and the upper reaches of the troposphere. The MJO has the ability to influence monsoonal circulation and rainfall by adding moisture during its cyclonic (wet) phase and reducing convection during its anticyclonic (dry) phase. At the surface in monsoon regions, both dry and wet spells result. These periods may alternate locally on the order of two or more weeks per phase.
This year, the MJO shifted and pushed warm, moist air toward the Pacific and, ultimately, the U.S., ABC News reports.
Sandy's impact on the Northeast could be quite costly.
"We're looking at impact of greater than 50 to 60 million people," Louis Uccellini, head of environmental prediction for the National Oceanic and Atmospheric Administration (NOAA), told Time magazine. Storm surges in and around New York City can reach nearly record-breaking heights of 11 feet.
Hurricane Sandy could cost New York and the Northeast billions. Estimates provided by Kinetic Analysis Corp., a hazard analysis company in Maryland, revealed New York, Pennsylvania and New Jersey could see almost $4 billion in damages each.
Economists are predicting the storm will cost upwards of $55 billion in economic damages, according to Forbes.
PHOTO GALLERY
Hurricane Sandy
BEFORE YOU GO
11/04/2012 12:26 AM EDT
PHOTO: A Marathon Wedding Proposal, Minus The Marathon
HuffPost's Katie Bindley reports:
Like all the competitors who trained for the 2012 NYC Marathon, Hannah Vahaba will not be running the race this year. But she also will never forget her moment at the finish line. After traveling in from Atlanta, Vahaba picked up a marriage proposal in Central Park on Saturday without having to traverse the 26.2-mile course.
"This is my fiance," said Vahaba, 31, who had tears running down her face as she stood in Central Park where the race would have ended, just moments after Martin O'Donoghue had proposed.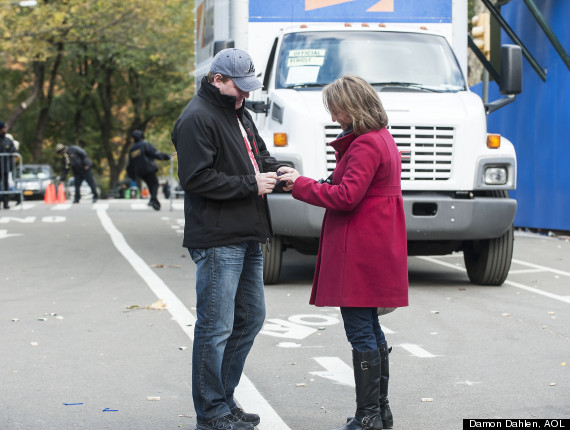 Photo by Damon Scheleur