* PSEG Salem and Hope Creek reactors likely to shut
* Reactors in Pennsylvania and Maryland could shut
By Scott DiSavino
Oct 29 (Reuters) - Hurricane Sandy could shut a few nuclear
power reactors in the U.S. Mid-Atlantic before making landfall
Monday night.
The storm, centered over the Atlantic Ocean about 310 miles
(505 km) southeast of New York City, was expected to hit near
Delaware and south New Jersey in about 12 hours as a Category 1
hurricane with winds of up to 90 miles per hour (144 kph).
The nuclear reactors in Sandy's current path include units
at Public Service Enterprise Group Inc's 2,332-megawatt
(MW) Salem and 1,161-MW Hope Creek plants, which were likely to
bear the brunt of the storm before it moves inland.
Sandy was expected to lose some punch as she moves over
Pennsylvania and Maryland, crossing near Constellation Nuclear
Energy Group's 1,705-MW Calvert Cliffs nuclear plant in
Maryland, Exelon Corp's 2,244-MW Peach Bottom, 805-MW
Three Mile Island and 2,264-MW Limerick in Pennsylvania, and PPL
Corp's 2,450-MW Susquehanna in Pennsylvania.
Electricity traders said if Sandy continues on her expected
path it was likely PSEG would have to shut the Salem and Hope
Creek reactors later Monday, but they were mixed on whether the
storm's winds would still be strong enough to force the shutdown
of the Pennsylvania and Maryland reactors.
All U.S. reactors have procedures that require operators to
shut the units before hurricane-force winds reach their sites or
when floodwaters reach certain levels.
A few reactors in the area were already shut for refueling
or other maintenance, including Exelon's Oyster Creek in New
Jersey, PSEG's Salem 2 in New Jersey, and PPL's Susquehanna in
Pennsylvania.
A spokesman at PSEG said only essential personnel were
required to report to the Salem and Hope Creek site on Monday.
Both Salem Unit 1 and Hope Creek were at full power Monday
morning and the refueling work on Salem Unit 2 was suspended by
6 p.m. EDT Sunday, PSEG spokesman Joe Delmar told Reuters.
BEFORE YOU GO
PHOTO GALLERY
Hurricane Sandy
11/04/2012 12:26 AM EDT
PHOTO: A Marathon Wedding Proposal, Minus The Marathon
HuffPost's Katie Bindley reports:
Like all the competitors who trained for the 2012 NYC Marathon, Hannah Vahaba will not be running the race this year. But she also will never forget her moment at the finish line. After traveling in from Atlanta, Vahaba picked up a marriage proposal in Central Park on Saturday without having to traverse the 26.2-mile course.
"This is my fiance," said Vahaba, 31, who had tears running down her face as she stood in Central Park where the race would have ended, just moments after Martin O'Donoghue had proposed.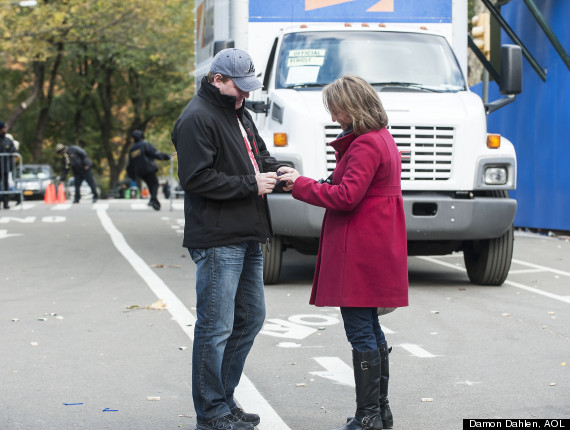 Photo by Damon Scheleur