A remarkable Hurricane Sandy time lapse released by NASA captures the 900-mile megastorm intensifying and moving north.
The video was compiled from images of the storm taken by NASA's GOES-13 satellite on Oct. 26 through Oct. 28, as Sandy moved out of the Bahamas, spreading its clouds over the Eastern Seaboard.
Scroll For Photos, Live Updates
A separate vantage point of the storm taken by a different NASA satellite, GOES-14, took one picture every minute from 7:15 a.m. until 6:30 p.m. EDT Oct. 28. These "super rapid scan" images reveal amazing details of the storm's motion, according to NASA Earth Observatory's YouTube channel.
According to CNN, Sandy intensified on Oct. 29, with sustained winds of 90 mph reported. Officials on Monday said that Sandy's storm surge had already reached the levels achieved by Irene in 2011.
The ISS passed over Sandy on Monday morning, Previously, cameras on the space station captured Sandy as the storm moved northward toward the Bahamas.
WATCH: Hurricane Sandy Time Lapse From GOES-14
LOOK:
PHOTO GALLERY
Hurricane Sandy
Live Updates:
BEFORE YOU GO
11/04/2012 12:26 AM EDT
PHOTO: A Marathon Wedding Proposal, Minus The Marathon
HuffPost's Katie Bindley reports:
Like all the competitors who trained for the 2012 NYC Marathon, Hannah Vahaba will not be running the race this year. But she also will never forget her moment at the finish line. After traveling in from Atlanta, Vahaba picked up a marriage proposal in Central Park on Saturday without having to traverse the 26.2-mile course.
"This is my fiance," said Vahaba, 31, who had tears running down her face as she stood in Central Park where the race would have ended, just moments after Martin O'Donoghue had proposed.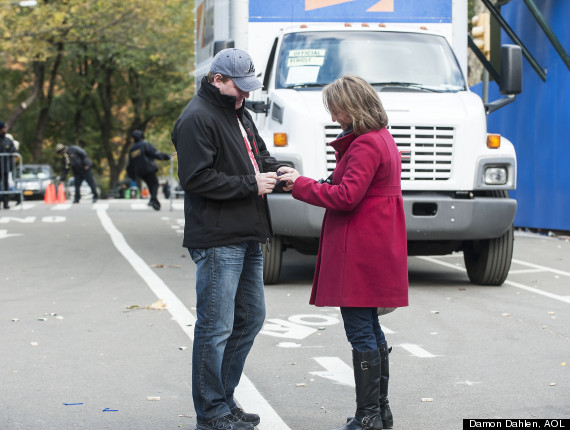 Photo by Damon Scheleur