Dominion Virginia Power is reporting more than 5,100 electric customers without power, most of them in eastern Virginia.
More than 2,500 subscribers were out of service in southeastern Virginia and another 1,400 in the company's Gloucester and Northern Neck service area.
In the Richmond and Tri-Cities area, 110 customers were without power at 10 a.m. today.
Electric cooperatives in Virginia, Delaware and Maryland's Eastern Shore reported 2,925 power outages this morning but the largest number -- Central Virginia Electric Cooperative's 2,635 outages -- were caused by a problem unrelated to the hurricane.
"While several hundred co-op members in the eastern portion of the region experienced service interruptions on Sunday afternoon and evening, a majority of those outages have been restored," according to the Virginia, Maryland & Delaware Association of Electric Cooperatives.
More than 280 workers and 130 vehicles from six states -- South Carolina, Tennessee, Alabama, Georgia, Mississippi and North Carolina -- were en route Monday to assist the consumer-owned co-ops of Virginia, Maryland and Delaware, the association said. ___
(c)2012 the Richmond Times-Dispatch (Richmond, Va.)
Visit the Richmond Times-Dispatch (Richmond, Va.) at www.timesdispatch.com
Distributed by MCT Information Services
BEFORE YOU GO
11/04/2012 12:26 AM EDT
PHOTO: A Marathon Wedding Proposal, Minus The Marathon
HuffPost's Katie Bindley reports:
Like all the competitors who trained for the 2012 NYC Marathon, Hannah Vahaba will not be running the race this year. But she also will never forget her moment at the finish line. After traveling in from Atlanta, Vahaba picked up a marriage proposal in Central Park on Saturday without having to traverse the 26.2-mile course.
"This is my fiance," said Vahaba, 31, who had tears running down her face as she stood in Central Park where the race would have ended, just moments after Martin O'Donoghue had proposed.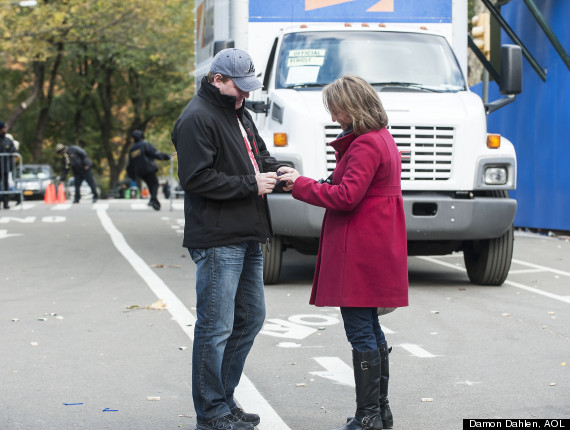 Photo by Damon Scheleur