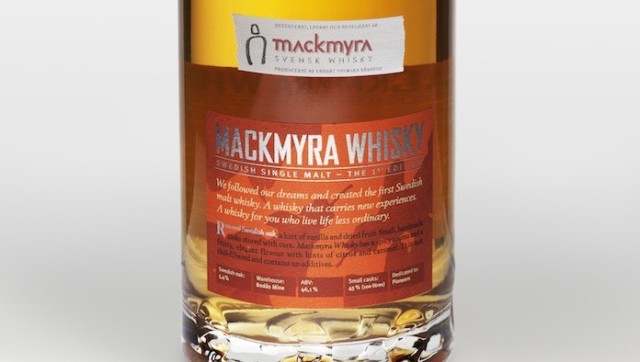 Any good whisky lover (this includes the inimitable Brian Cox) will tell you that Scotch whisky can only come from Scotland. But we never want to keep other countries with brave whisky-leaning souls from giving their own version a shot. Which is why we absolutely could not be happier about Sweden's first whisky, Mackmyra.
According to company legend, it all started with a skiing trip in 1998. Each of the eight Swedish friends brought a bottle of single malt, and the question inevitably arose -- why isn't there a Swedish one? Ten years later, in 2008, The First Edition was released in Sweden.
We got our hands on a bottle of The First Edition, Mackmyra's maiden voyage into single malt whisky. Aged in handcrafted, Swedish oak barrels, utilizing peat from a bog nearby the Mackmyra distillery, this whisky is small batch and distinctly Swedish. The pleasant sweetness and subtle smoke in The First Edition are almost polite -- waiting for you to be ready to enjoy them. This whisky -- with no disrespect intended to the burly, smoky, take-no-prisoners Scotches we have frequently enjoyed -- is much more in tune with what we want out of a single malt. It is highly drinkable, appeals to multiple palates and will bring a smile to any bourbon drinker's face. Especially if they happen to be Swedish.
You can read all about Mackmyra Svensk Whisky on their website and Facebook page. For now, Mackmyra's American retail presence is limited to select stores and restaurants in New York, but you can order a bottle online nationwide.
Want to read more from HuffPost Taste? Follow us on Twitter, Facebook, Pinterest and Tumblr.
BEFORE YOU GO