Even before the superstorm fueled by Hurricane Sandy has hit New York City in earnest Monday, parts of Manhattan and Brooklyn have experienced flooding.
At a press conference Monday morning, Governor Cuomo said the storm surge in New York is already at Hurricane Irene levels.
According to The New York Times, "Forecasters are expecting a 6-to-11-foot surge to hit the city at high tide around 8 p.m. [Monday] – the highest surge of the entire storm cycle."
The storm surge is the biggest concern for New York City when the storm hits in full force Monday evening. From the Associated Press:
The National Oceanic and Atmospheric Administration's environmental protection chief, Louis Uccellini, called the projected storm surge "the worst-case scenario" for New York City, Long Island and northern New Jersey.

It threatened to swamp parts of lower Manhattan, flood subway tunnels and knock out the underground network of power, phone and high-speed Internet lines that are the lifeblood of America's financial capital.
Water was already spilling onto the Battery Park Esplanade Monday morning and flooding streets in Red Hook, while the polluted water of the Gowanus Canal started to break free of its shores.
And according to the Wall Street Journal, "In the Breezy Point section of the Rockaways, a peninsula in Queens under a mandatory evacuation order, some streets have a few inches of water. The tips of waves are splashing over the seawall onto Beach Channel Drive, a main thoroughfare that runs along Jamaica Bay."
New Yorkers have documented the early flooding on Twitter. Check out some photos below:
The Hudson River has breached it's banks 8.53 am #sandy instagr.am/p/RXe1ZdPNEg/

— Nigel Barker (@NigelBarker) October 29, 2012
@startingptcnn Thank you for your amazing coverage Soledad! Here we are marooned in Red Hook, Brooklyn!! #Sandy twitter.com/greenpainting/…

— Nick Cope (@greenpainting) October 29, 2012
Some parts of South St (im at Catherine) are beginning to experience flooding #sandy #zonea twitpic.com/b8i8nt

— Newyorkist (@Newyorkist) October 29, 2012
water splashing over walk on East River Esplanade #sandy twitpic.com/b8i3fx

— Newyorkist (@Newyorkist) October 29, 2012
Back at the Get Down on the East River Esplanade at end of Wall St and river is splashing over third step #sandy twitpic.com/b8i1x7

— Newyorkist (@Newyorkist) October 29, 2012
Gowanus Canal flooding on Sackett. Note the disturbing greenish hue of the water in the background twitter.com/hunterw/status…

— Hunter Walker (@hunterw) October 29, 2012
11/04/2012 12:26 AM EDT
PHOTO: A Marathon Wedding Proposal, Minus The Marathon
HuffPost's Katie Bindley reports:
Like all the competitors who trained for the 2012 NYC Marathon, Hannah Vahaba will not be running the race this year. But she also will never forget her moment at the finish line. After traveling in from Atlanta, Vahaba picked up a marriage proposal in Central Park on Saturday without having to traverse the 26.2-mile course.
"This is my fiance," said Vahaba, 31, who had tears running down her face as she stood in Central Park where the race would have ended, just moments after Martin O'Donoghue had proposed.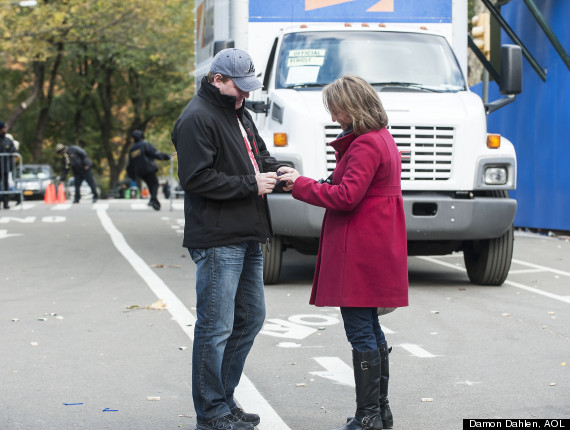 Photo by Damon Scheleur
PHOTO GALLERY
Hurricane Sandy
BEFORE YOU GO