This week will continue to be hard for many people on the East Coast. But there is a light at the end of the tunnel (or at least a painting of Aziz Ansari wearing a superhero uniform).
This weekend, "The Art of Comedy" will bring portraits out of the gallery and comedy out of the club right when we will need it the most. Presented by the The New York Comedy Festival, the event features artist-comedian extraordinaires Ron English, Gilf! and Hanksy. The three artists create sharp and accessible visual puns by slightly inverting the images engrained in our national image vocabulary.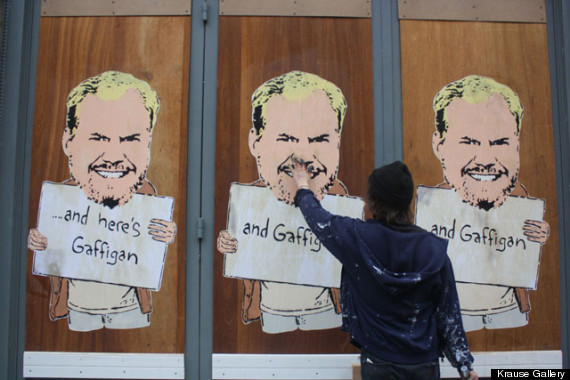 English, known for his glossy and grotesque Popaganda paintings, gives America's favorite characters like Ronald McDonald and Mickey Mouse a darker side. This will be the artist's first mural in Manhattan since 1987, and it's rumored to be worth the wait. Gilf! adds her subtle take on Colonel Sanders and the Statue of Liberty, exposing a humorous and human vulnerability in the familiar icons. We hear she is planning an election-themed work for the festival, which is sure to ruffle some feathers. And of course there is Hanksy, who never met a celeb he didn't want to lampoon. The street artist will create homages to comedy performers in the festival, including Jim Gaffigan (above) and Ansari. (No Tina Fey? Hanksy, are you aware there are women in comedy?)
Get ready for an art crawl at noon on Saturday, November 3 starting at 385 Broome Street in Manhattan. If Frankenstorm hasn't destroyed civilization as we know it, we look forward to laughing it off with Aziz Ansari, even if in wheat paste form.
To see the street artists' solo shows, check out Hanksy at Krause Gallery, Ron English at Opera Gallery and Gilf! at Galerie Swanström. You can read a schedule for the New York Comedy Festival here.
See some of what you can expect from Hanksy in the slideshow below, and let us know your thoughts in the comments section.
BEFORE YOU GO