UPDATE, 10:48am 11/3:
FlightStats.com has issued a report stating that from October 27th to November 1st in North America alone, 20,254 flights were canceled due to Hurricane Sandy. Roughly 9,978 flights were canceled at New York area airports alone.
United stands as the airline with the most cancellations by Sandy (2,149), followed by JetBlue (1,469), US Airways (1,454), Southwest (1,436), Delta (1,293) and American (759). In an examination of weather events over the past seven years, Sandy comes in second in terms of total number of cancelled flights, behind the North American Blizzard of February 2010 (22,441 flights).
UPDATE, 9:35am, November 2
Amtrak is getting back to its normal routine Friday, with more service into and out of New York City.
However, not all routes are totally back on track.
For all service alerts, visit Amtrak's website.
UPDATE, 3:57pm, November 1
Now that LaGuardia airport has been reopened, flight service is beginning to return to normal after days of delayed and cancelled flights.
Amtrak, however, is still facing uncertainty. The rail line said Thursday that water has been pumped from one of the two Amtrak tunnels beneath the Hudson River and repairs are ongoing, the Associated Press reports. The company said it would update passengers once it has run test trains through the tunnels later Thursday.
UPDATE, 6:27pm:
CNN Weather Center issued a Tweet reporting that LaGuardia would reopen at 7am Thursday.
The Port Authority of New York and New Jersey quickly followed up and sent HuffPost Travel a Tweet confirming the news.
UPDATE, 11:02am:
FlightStats.com has updated the number of flight cancellations around North America. 2,820 flights have been canceled for Wednesday so far, 238 for Thursday, bringing the total number to 19,217 since Saturday.
For more detailed info, check out FlightStats' Global Cancellation Tracker here .
UPDATE, 7:28am 10/31:
FlightStats.com reported early Wednesday that some 2,664 flights have been canceled in North America on Wednesday; 22 are already canceled for Thursday. The total number of flights canceled since Saturday hovers around 18,445.
Meanwhile, Orbitz.com reports a 14% spike in car rental rates in New York from last week. That number was even higher in Boston, Washington and Philadelphia, which saw a 50% spike in rates, according to the Associated Press.
Additionally, hotel room rates rose some 55% in Newark and 9% in Washington (that number did, however, decrease in Boston and N.Y.C.).
UPDATE, 9:27pm:
The Port Authority of New York & New Jersey updated fliers via Twitter that they anticipate JFK airport will reopen Wednesday afternoon. According to the FAA's website, Newark is expected to reopen at 7am on Wednesday. Likely both airports will have limited service.
Additionally, Stewart Airport, which sits west of Newburgh, N.Y., is currently open and is expected to have a fully operational schedule Wednesday.
LaGuardia still has no opening time, per the FAA's site.
UPDATE, 4:15pm:
According to information shared with Huffington Post Travel by FlightStats.com, roughly 1,021 flights have been canceled for October 31, bringing the total number of flights canceled to around 17,062.
The airports with the highest volume of canceled flights for Tuesday and Wednesday are:
(PHL) Philadelphia International Airport: 1,066 cancelations (182 Wednesday)
(EWR) Newark Liberty International Airport: 996 cancelations (322 Wednesday)
(LGA) La Guardia Airport: 893 cancelations (250 Wednesday)
(JFK) John F. Kennedy International Airport: 812 cancelations (177 Wednesday)
(DCA) Ronald Reagan National Airport: 705 cancelations (105 Wednesday)
(BOS) Logan International Airport: 605 cancelations (60 Wednesday)
(IAD) Dulles International Airport: 602 cancelations (32 Wednesday)
(BWI) Baltimore/ Washington International Airport: 601 cancelations (31 Wednesday)
Check out this heat map by the site for where the most flights have been canceled. For a complete tracker of all canceled flights head here.
PREVIOUSLY: Hurricane turned Superstorm Sandy has already caused the cancellation of some 16,127 flights in North America through Wednesday, according to FlightStats.com.
For Wednesday alone, about 547 flights have already been canceled. The most affected airports as of 10:30 a.m. Tuesday are Philadelphia International and Newark Liberty International.
A photo taken from inside New York's LaGuardia airport show taxiways flooded by at least several inches of water Tuesday morning in the wake of Superstorm Sandy.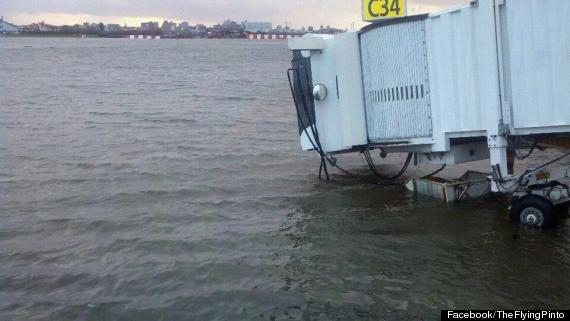 (Photos: Facebook.com/theflyingpintoblog)
Currently, the following airports are closed: (ACY) Atlantic City International Airport, (EWR) Newark Liberty International Airport, (GON) Groton-New London Airport, (HVN) New Haven Airport, (JFK) John F. Kennedy International Airport, (LGA) La Guardia Airport, (MMU) Morristown Municipal Airport and (TEB) Teterboro Airport. Click here for a global cancellation and delay tracker.
New York Governor Andrew Cuomo Tweeted an update around 12 p.m. regarding New York area airports:
Here's the daily of canceled flights thus far:
Wednesday, Oct. 31 - Canceled: 547
Tuesday, Oct. 30 - Canceled: 6,127
Monday, Oct. 29 - Canceled: 7,944
Sunday, Oct. 28 - Canceled: 1,501
Saturday, Oct. 27 - Canceled: 152
Before flights can take off, the airlines have a number of factors to consider , according to the AP. Among them, whether the runways are open, whether public transportation is available to get workers to the airport and whether all the staff needed to run an airport (TSA, customs officials, fuel trucks, caterers, etc) are available.
Here's a response from some of the major airlines thus far:
American Airlines & American Eagle
American Airlines and American Eagle have canceled 1,687 flights from Sunday through Wednesday, October 31, airline spokesman Matt Miller told Huffington Post Travel. The airline won't be operating until at least midday Wednesday at eight airports in the mid-Atlantic and northeast, including Norfolk, Baltimore, Dulles, Reagan, Newark, JFK, LaGuardia and Philadelphia. The airline anticipates "late starts" on Tuesday at seven airports, including Bradley International, Boston Logan, Cleveland, Pittsburgh, Richmond, Columbus and Dayton, with Chicago O'Hare also impacted. Customers who were issued tickets no later than October 26, with travel scheduled between October 28 and 31 to, from and through the 22 total airports affected can change their flights without penalty, have the ticket-reissue charge waived for one ticket change, and begin travel as late as November 7.
Frontier
A Frontier spokeswoman informed us that approximately 60 flights have been canceled to the airline's East Coast destinations. Because Denver-based Frontier only services a select number of airports in the East, it was not as affected as the larger U.S. carriers. Customers with reservations through November 1 will be allowed to modify their itinerary so long as it is done by that date, and travel is completed by November 14.
JetBlue
JetBlue spokeswoman Allison Steinberg told Huffington Post Travel via email that the airline has "proactively" cancelled 1,200 flights from Sunday through Wednesday morning, but it anticipates that Boston and Washington ops will resume Tuesday. Steinberg said that both cities report "good airport conditions and good/fair public transit options." When asked about the possible financial impact Sandy would have on the airline, she said it was "too early" to predict.
"It will probably take until the weekend for things to return to normal," said Rob Maruster, the chief operating officer of JetBlue Airways, told the Associated Press.
Southwest Airlines & AirTran
According to Southwest's website, the airline has canceled 1,300 flights from Sunday evening through midday Wednesday. AirTran, which Southwest purchased in 2010, has canceled some 400 flights.
The airline anticipates returning to normal operations by midday Wednesday except at LaGuardia, Newark, Philadelphia and Long Island MacArthur airports. Click here for more information from Southwest and here for more on AirTran.
United
United Airlines has canceled 4,700 flights Sunday through Wednesday, or roughly 20% of all total scheduled flights for that time period. The airline is hopeful that it will be able to resume inbound flights to Newark by early Wednesday afternoon, airline spokesman Charles Hobart told Huffington Post Travel via email. Hobart added that customers whose flights are canceled or delayed more than two hours are eligible for a refund. They may also rebook with fees waived.
United flights into Dulles will likely resume Tuesday evening, and will return to a normal schedule on Wednesday. All regional operations to and from Cleveland Hopkins International Airport are suspended through Tuesday afternoon, according to United's website, and many flights into and out of Chicago O'Hare are delayed due to high winds.
US Airways
Airline spokeswoman Liz Landau tells Huffington Post Travel via email that the airline expects roughly 1,650 flights to be canceled on Wednesday (it has canceled 1,870 flights combined on Sunday and Monday). The airline is planning to restart operations Wednesday morning at Philadelphia, Washington Reagan, Boston and "all other US Airways cities "save LaGuardia, JFK and Newark." LaGuardia, Landau says, has a lot of standing water on both the land and air sides. The airline will begin repositioning aircraft later Tuesday into Philadelphia, Reagan and Boston to resume service tomorrow, but is are not certain what that service will be at this time. For more information, head to US Air's site.

Virgin America
So far the airline has canceled 132 flights to Washington Dulles, Washington Reagan, Philadelphia, JFK and Boston Logan, airline spokeswoman Patricia Condon told Huffington Post Travel via email. For details, head to Virgin America's website.
Condon also noted that the airline is waiving change fees for all guests with confirmed flights to and from Dulles, Reagan, Philadelphia, JFK and Boston from October 28 through 31 through November 10. Guests can also cancel their flights without penalty and receive credit for travel for up to one year.
BEFORE YOU GO
11/04/2012 12:26 AM EDT
PHOTO: A Marathon Wedding Proposal, Minus The Marathon
HuffPost's Katie Bindley reports:
Like all the competitors who trained for the 2012 NYC Marathon, Hannah Vahaba will not be running the race this year. But she also will never forget her moment at the finish line. After traveling in from Atlanta, Vahaba picked up a marriage proposal in Central Park on Saturday without having to traverse the 26.2-mile course.
"This is my fiance," said Vahaba, 31, who had tears running down her face as she stood in Central Park where the race would have ended, just moments after Martin O'Donoghue had proposed.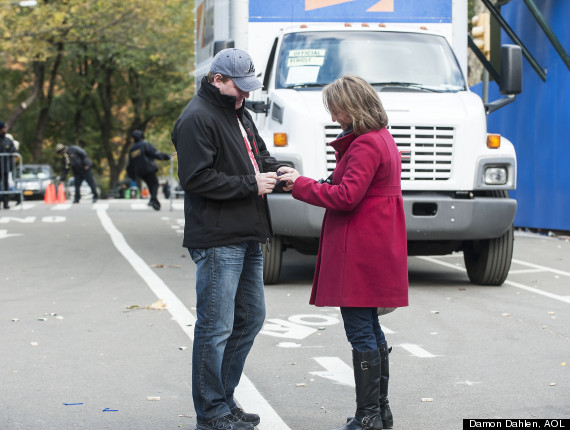 Photo by Damon Scheleur