Google is now sending public alerts to users searching for terms related to Superstorm Sandy. The results will appear on Google Search and Google Maps in desktop browsers and on Google Maps for Android mobile devices, as well as on Google Now for Android devices running Jellybean.
From a blog post written by Google Crisis Response's Nigel Snoad:
Public Alerts provide warnings for natural disasters and emergency situations. They appear based on targeted Google searches, such as [Superstorm Sandy], or with location-based search queries like [New York]. In addition to the alert, you'll also see relevant response information, such as evacuation routes, crisis maps or shelter locations.
For example, when someone in New York City searches Google for "Superstorm Sandy," a block of emergency info will appear above the Google Search results and will include links to disaster preparedness tips, Google's crisis response map, state-by-state responses, local evacuation zone information and more.
Take a look at the screenshot (below) to see what kind of alert Google displays above search results for "Superstorm Sandy," as searched by a New York City resident.


Google has been working to keep users abreast of the storm's impact. On Monday, for example, the company added to its crisis map (which plotted the projected route of Sandy and layered on resources for those in the storm's path) points where residents were experiencing power outages.
Take a look at the crisis map (below).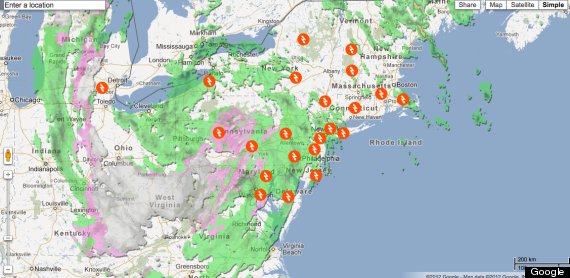 BEFORE YOU GO
PHOTO GALLERY
Hurricane Sandy