A handful of hospitals in New York and New Jersey closed and evacuated patients, while others are operating solely on backup generators, but most hospitals in states hit by Hurricane Sandy remain open with the worst of the storm over.
Despite flooding, electrical outages and impassable roads, most hospitals continued to treat patients Tuesday. In East Coast states where the storm inflicted less damage, hospitals have been operating almost normally, apart from those without primary power.
Hospitals, in coordination with government agencies, carried out their emergency preparedness plans, as doctors, nurses and other personnel made temporary homes of their workplaces. Federal disaster agencies also assisted, delivering 350 ambulances to New York City and 100 medical personnel to New Jersey, Gretchen Michael, a spokeswoman for the Department of Health and Human Services told HuffPost in an email.
In New York City, flooding, power loss and failed generators forced the New York University Langone Medical Center to relocate more than 200 patients, including cancer patients and 20 infants from the neonatal intensive care unit, to nearby hospitals Monday night. Tuesday morning, Brooklyn's Coney Island Hospital relocated about 180 patients after a blackout Monday and being down to a single generator Tuesday morning, according to Ian Michaels, a spokesman for the New York City Health and Hospitals Corp.
"We've had significant challenges at many of our hospitals and health care facilities," Mayor Michael Bloomberg said at a press conference Tuesday. "Fortunately, as of now there has been no storm-related fatalities at any them." Two other Manhattan hospitals, New York Downtown Hospital and the Veterans Affairs New York Harbor Healthcare System, emptied their beds before the storm hit.
The New York State Department of Health was still assessing the condition of hospitals outside the city Tuesday morning, said spokesman Jeffrey Hammond.
One New Jersey hospital, the Palisades Medical Center in North Bergen, had to find beds for 83 patients because of the storm, New Jersey Department of Health and Senior Services spokeswoman Donna Leusner told HuffPost. The Hoboken University Medical Center shut down Sunday night and relocated 131 patients, she said. About 100 New Jersey hospitals, nursing homes and assisted living facilities are running solely on generators, she said.
As in other locales, New Jersey facilities, including Valley Hospital in Ridgewood and Camden's Cooper Hospital and Lourdes Hospital, preemptively cut back on nonessential services such as elective surgeries and outpatient treatments. Hospitals across the region hit by Sandy, including the NYU hospital, took other advance steps, such as moving fragile patients before the storm began
All of Pennsylvania's hospitals are open, but facilities -- especially in the Philadelphia and Lehigh Valley areas -- face electrical outages and some are relying on backup power, said Penny Kline, a spokeswoman for the Pennsylvania Department of Health.
The Maryland Emergency Management Agency reports no closures or evacuations of any hospitals or nursing homes in the state, said Ed McDonough, a spokesman. McCready Memorial Hospital in Crisfield on the state's Eastern Shore isn't taking any additional patients because it's down to backup power, he said. Floodwaters found their way onto the first floor of another Eastern Shore facility, Dorchester General Hospital, but patients are safe, he said. Tidal flooding from the Chesapeake Bay and the Potomac River remain a concern, he said.
No hospital or nursing homes closed or relocated patients in Virginia, although three nursing homes are running on generator power, according to Maribeth Brewster, a spokeswoman for the Virginia Department of Health. She also reports that the department doesn't expect flooding to pose any difficulties for the state's health care facilities.
In Massachusetts, "there are no issues," said Peter Judge, a spokesman for the Massachusetts Emergency Management Agency. Eight hospitals are being powered by generators but service hasn't been affected, he said. "It's business as usual."
UPDATE: 3:15 p.m. -- No Connecticut hospitals have closed but three nursing homes, one hospice and one assisted living facility were evacuated, Connecticut Department of Public Health spokesman William Gerrish wrote in an email to HuffPost.
BEFORE YOU GO
PHOTO GALLERY
Hurricane Sandy
11/04/2012 12:26 AM EDT
PHOTO: A Marathon Wedding Proposal, Minus The Marathon
HuffPost's Katie Bindley reports:
Like all the competitors who trained for the 2012 NYC Marathon, Hannah Vahaba will not be running the race this year. But she also will never forget her moment at the finish line. After traveling in from Atlanta, Vahaba picked up a marriage proposal in Central Park on Saturday without having to traverse the 26.2-mile course.
"This is my fiance," said Vahaba, 31, who had tears running down her face as she stood in Central Park where the race would have ended, just moments after Martin O'Donoghue had proposed.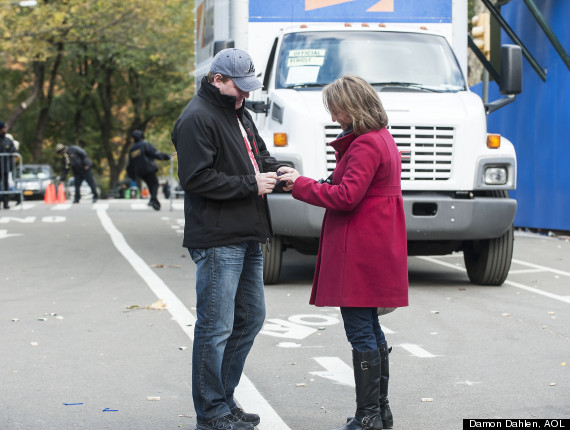 Photo by Damon Scheleur