With hundreds of thousands of New York residents still without power, the city's primary utility company spent Tuesday hustling to restore service.
Consolidated Edison (ConEd) released a statement at 11:30 a.m., informing customers of the timetable to get their electric back up and running.
"The company estimates that customers in Brooklyn and Manhattan served by underground electric equipment should have power back within four days," the statement read. "Restoration to all customers in other areas served by overhead power lines will take at least a week."
Reuters reports that as of 2 p.m. ET, almost 250,000 Manhattan homes were without power. Most of those spots were located below 39th Street, thanks to a ConEd transformer explosion on 14th Street that rocked the area Monday evening and subsequently cut off power.
Watch the video above of crews pumping water in Lower Manhattan's troubled spots.
BEFORE YOU GO
PHOTO GALLERY
Hurricane Sandy
11/04/2012 12:26 AM EDT
PHOTO: A Marathon Wedding Proposal, Minus The Marathon
HuffPost's Katie Bindley reports:
Like all the competitors who trained for the 2012 NYC Marathon, Hannah Vahaba will not be running the race this year. But she also will never forget her moment at the finish line. After traveling in from Atlanta, Vahaba picked up a marriage proposal in Central Park on Saturday without having to traverse the 26.2-mile course.
"This is my fiance," said Vahaba, 31, who had tears running down her face as she stood in Central Park where the race would have ended, just moments after Martin O'Donoghue had proposed.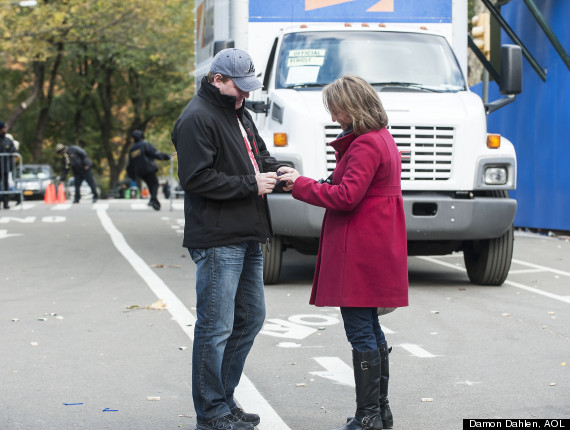 Photo by Damon Scheleur