On Monday, as hurricane turned superstorm Sandy ripped through the five boroughs, New York City came to a screeching halt.
Public transportation was shut down, bridges were closed, businesses were shuttered and millions of residents were told to evacuate from low-lying regions or to stay safe holed up in their homes.
Hours later, as the city begins to pick up the pieces in the aftermath of the superstorm, accessing the damage and figuring out next steps, bewildered residents stranded at home are beginning to ask: What now?
Though it will likely take days or even weeks for the city to fully grasp the magnitude of this disaster, roads are now starting to be cleared, debris cleaned up, and public and other modes of transportation are slowly kicking back into gear.
Over the next few days, stay updated by checking our live blog (below) and referring frequently to the governor's, mayor's and MTA's websites.
As of Tuesday afternoon, here's the most updated information we have regarding transportation:
BRIDGES & ROADS
Governor Andrew M. Cuomo announced on Tuesday that five of the MTA's seven bridges -- the Robert F. Kennedy, Verrazano-Narrows, Bronx-Whitestone, Throgs Neck and Henry Hudson bridges -- were "fully inspected and reopened at noon."
However, the two Rockaway bridges, Cross Bay Veterans Memorial and Marine Parkway-Gil Hodges bridges, and the Hugh L. Carey and Queens Midtown Tunnel remain closed.
At a press conference Tuesday morning, Mayor Michael Bloomberg said that roads should be mostly cleared of water by Wednesday.
MTA
"Our transportation system has never faced a disaster as devastating Hurricane Sandy, which has caused an unparalleled level of damage," said MTA Chairman Joseph J. Lhota in the storm's aftermath. "The challenge that we face now is one of assessment, inspection, repair, and restoration. This will not be a short process, but it will be one that puts safety as its major focus."
According to the MTA website, "seven East River subway tubes, two Long Island Rail Road tubes linking Manhattan with Queens and two vehicular tunnels were inundated by a wall of water, along with one subway bridge, three subway yards and six bus depots." Still, the website notes that there are "some early signs of recovery."
Buses: Governor Cuomo announced that service will be partially restored at 5 p.m. on Tuesday, when buses will begin running on a "Sunday schedule."
A full schedule is expected for Wednesday. No fares will be charged on both days.
Subway: On Tuesday morning, Mayor Michael Bloomberg said that due to flooding and other damage, the subway system remains closed Tuesday. He added that there is "no timeline for reactivation" at the moment and that it may take 4 to 5 days for service to resume.
According to MTA website, "damage has been extremely heavy in downtown Manhattan where several subway lines converge."  The South Ferry station, for example, is said to be "filled track to ceiling with water as are several of the subway tunnels."
In a statement Tuesday, Lhota declared Hurricane Sandy the worst disaster in the subway's 108-year history.
Mortimer Downey, a former MTA executive director and current board member of the Washington Metropolitan Area Transit Authority, told Bloomberg that full recovery of the subway system may take days and "possibly weeks."
"Service won't be able to resume until inspections take place and any parts damaged by being inundated with salt water are replaced," according to Downey.
AIRPORTS
Gothamist reports that JFK may reopen Wednesday. But Governor Cuomo was reportedly "dubious about LaGuardia's chances due to serious damage."
Sandy has already caused the cancellation of some 16,127 flights in North America through Wednesday, according to FlightStats.com. For more on the storm's impact on travelers, click here.
TAXIS
Bloomberg said that some taxis will be on the road Tuesday and that a 'shared taxi' system will be allowed. In other words, cab drivers will be able to pick up new passengers even if they already have a customer in the vehicle.
11/04/2012 12:26 AM EDT
PHOTO: A Marathon Wedding Proposal, Minus The Marathon
HuffPost's Katie Bindley reports:
Like all the competitors who trained for the 2012 NYC Marathon, Hannah Vahaba will not be running the race this year. But she also will never forget her moment at the finish line. After traveling in from Atlanta, Vahaba picked up a marriage proposal in Central Park on Saturday without having to traverse the 26.2-mile course.
"This is my fiance," said Vahaba, 31, who had tears running down her face as she stood in Central Park where the race would have ended, just moments after Martin O'Donoghue had proposed.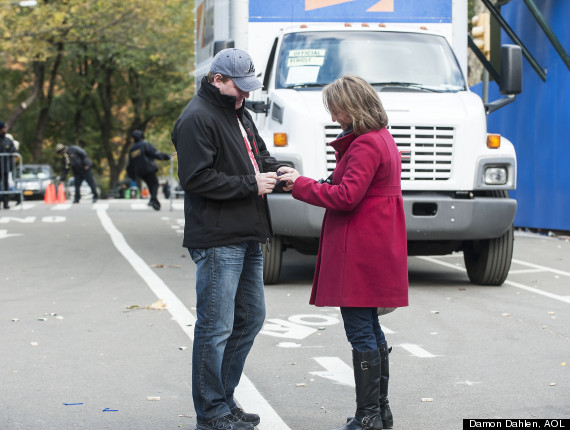 Photo by Damon Scheleur
BEFORE YOU GO