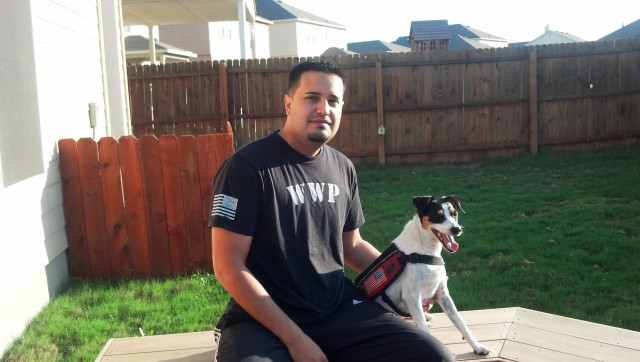 Disabled war veteran Adan Gallegos' dog Bootz isn't just his best friend, he's also something of a nurse, bodyguard and therapist. But despite Bootz's important role, it appears he's not allowed to accompany Gallegos, who suffers from Post Traumatic Stress Disorder, when he does something as basic as picking up a mattress.
That's according to a new lawsuit filed by Gallegos against Billy Bob's Beds in San Antonio, Texas, alleging that owner William Gholson kicked the disabled veteran out of his store because he had his service dog Bootz with him. After he was told to leave the store, Gallegos was allegedly harassed further by two of Gholson's employees who told him to "go occupy Wall Street."
While the incident took place in October 2011, the details of it have only recently made waves in a city where tensions appear to be mounting between local businesses and a significant population of disabled veterans who use service dogs to cope with post combat disorders such as PTSD. According to the complaint, Bootz helps Gallegos by waking him from nightmares, warning him when people are coming up from behind him and reminding him to take his medication.
"It's very clear and very obvious that Bootz is highly trained and is very, very keen," Don Jones, a disabled veteran who's met Bootz on two separate occasions and now serves as chief of staff for Rep. Jose Menendez, told The Huffington Post. "His eyes never leave his master. So to have an intelligent adult person treat Adan in the way that's been alleged is beyond comprehension really."
Tragically, if Gallegos' claims prove true, it wouldn't be the first time a veteran was denied their right to be accompanied by a service dog. Around the same time Gallegos filed his lawsuit, fellow disabled veteran Carrie Ann Partch was denied entry into a Taco Cabana because of her service dog, prompting the restaurant chain to re-educate employees on policies related to service dogs, KSAT reports. Partch says she's been denied access to San Antonio grocery stores at least 50 times.
Indeed, reeducation may be the solution given Gholson's apparent ignorance of laws surrounding service dogs at the time of the incident with Gallegos.
"Billy Bob was not aware of the idea of service dogs for folks -- like Mr. Gallegos -- who did not have an apparent disability," Gholson's attorney wrote to WOAI in a statement. "There seem to be government rules and regulations that Billy Bob did not understand at the time."
BEFORE YOU GO
PHOTO GALLERY
Disabled Veteran Kicked Out Of Store Because He Had Service Dog