Jessica Simpson is not only celebrating Halloween on Wednesday, but also her 60-pound weight loss.
New mom Simpson showed off her Halloween costume and her shrinking waistline in a photo posted to Twitter Wednesday afternoon. The 32-year-old donned a leather corset, lace skirt and pigtails, while fiance Eric Johnson opted for a plaid "Braveheart" costume. Little Maxwell Drew, who turns six months old on Thursday, was dressed as an adorable, feathery chicken.
The costume highlighted the singer's tiny waist. Simpson has lost a whopping 60 pounds in just five months, Us Weekly reported.
After gaining 70 pounds during her first pregnancy, Simpson teamed up with Weight Watchers after giving birth in May. "She's so focused and determined," her Weight Watchers leader Liz Josefsberg tells Us Weekly. "She's very brave to do this in a healthy, more realistic way." Her trainer Harley Pasternak added, "In over 20 years, I've never seen as consistent a weight loss. Jessica's right where she needs to be . . . She's gotten so much stronger."
Simpson was not shy when talking about her weight gain. She admitted to giving in to some decadent pregnancy cravings, like her homemade "Slutty Brownies," made with layers of cookie dough, Oreos and brownie batter.
"I let myself indulge in everything I wanted because it was the first time I was ever pregnant, and I wanted to enjoy it," the blonde fashion designer told USA Today. "I wanted to be happy and eat what I wanted."
"I'm not a supermodel. My body is not bouncing back like a supermodel. I'm just your everyday woman who is trying to feel good and be healthy for her daughter, her fiancé and herself," she said.
If her Halloween costume is any indication, Simpson is looking more and more like a supermodel each day.
Halloween is a big holiday for the Simpson clan. Last year, Jessica dressed up as a "mummy" to announce her pregnancy. This year, threw a bash to celebrate Maxwell's first Halloween, Pop Sugar reported.
LOOK: Jessica Simpson tweets a family Halloween photo.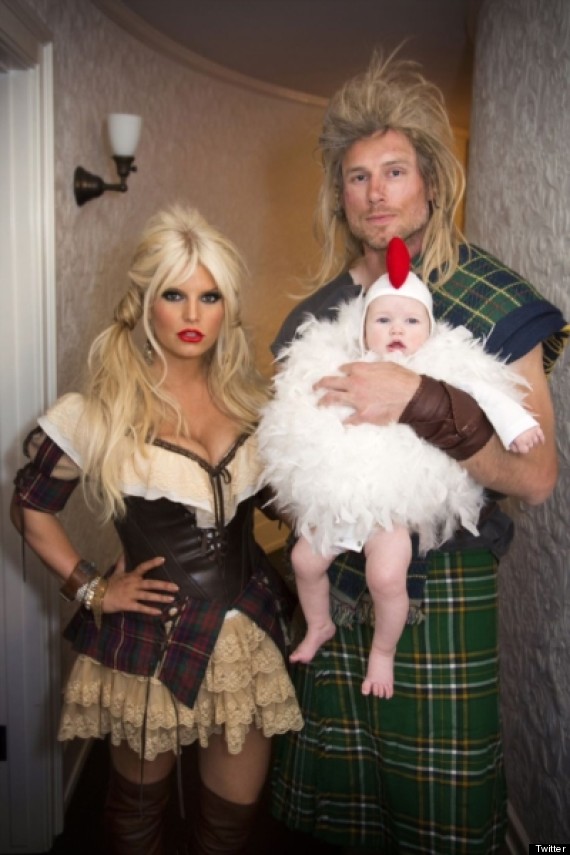 BEFORE YOU GO