 With Maryland largely spared from the worst of superstorm Sandy's wrath, some Baltimore-area emergency personnel -- including a specially trained urban search and rescue team and multiple medical units -- are gearing up to be dispatched to more devastated areas to the north.
Both New York and New Jersey saw widespread destruction on Monday night into Tuesday morning, with businesses and homes along the New Jersey shore destroyed and boroughs of New York City inundated with water.
Maryland also saw flooding, particularly in shoreline communities like Crisfield, but the destruction was not as widespread as it was in the more northern states.
In response, the Baltimore Urban Area Security Initiative, a program that uses U.S. Department of Homeland Security funding to bolster the Baltimore region's emergency response capabilities, has mobilized its search and rescue team in case it will be needed in towns or cities up the coast, according to Cal Bowman, chairman of the Baltimore UASI and a senior policy advisor for the Mayor's Office of Emergency Management.
The team is designed to respond to regional and national disasters such as "earthquakes, hurricanes, widespread tornadoes, and manmade and terrorist events" on short notice, Bowman said.
Its capabilities include physical search and rescue, medical care, damage assessment, reconnaissance, water rescue operations and stabilizing damaged structures, Bowman said.
Apart from the UASI, the city has put five advanced life support and five basic life support medic units on stand-by, ready to be mobilized to northern states, Bowman said.
In Maryland, UASI resources have been provided to the Maryland Emergency Management Agency -- including a cache of 800mhz radios from the city and an Incident Management Team (IMT) from Howard County -- to assist in the emergency response within the state.
The Baltimore UASI is a partnership between Baltimore, Annapolis, and Anne Arundel, Baltimore, Carroll, Harford and Howard counties. More than $100 million has been granted to the group by DHS and the Federal Emergency Management Agency since 2003.
A team of emergency management professionals from Indiana who arrived in Baltimore on Monday through an Emergency Management Assistance Compact request to assist the city in its damage assessment in the days following Sandy's path through the state have also been redeployed to New Jersey, said Ian Brennan, a spokesman for Mayor Stephanie Rawlings-Blake.
krector@baltsun.com
twitter.com/rectorsun ___
(c)2012 The Baltimore Sun
Visit The Baltimore Sun at www.baltimoresun.com
Distributed by MCT Information Services
PHOTO GALLERY
Hurricane Sandy
11/04/2012 12:26 AM EDT
PHOTO: A Marathon Wedding Proposal, Minus The Marathon
HuffPost's Katie Bindley reports:
Like all the competitors who trained for the 2012 NYC Marathon, Hannah Vahaba will not be running the race this year. But she also will never forget her moment at the finish line. After traveling in from Atlanta, Vahaba picked up a marriage proposal in Central Park on Saturday without having to traverse the 26.2-mile course.
"This is my fiance," said Vahaba, 31, who had tears running down her face as she stood in Central Park where the race would have ended, just moments after Martin O'Donoghue had proposed.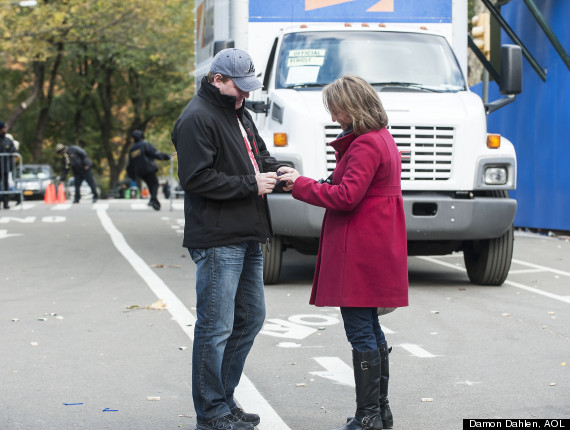 Photo by Damon Scheleur
BEFORE YOU GO