All Dominion Virginia Power customers, "with very few exceptions," should have their electricity turned back on by Thursday night, the Richmond-based utility said.
The company expected all of its out-of-service customers outside of Northern Virginia -- the state's hardest hit area -- would have had their electric service turned on again by Tuesday night.
"Dominion employees, retirees, contractors and crews from other companies are fully engaged in this effort, and work will continue around the clock until power is restored to every customer affected by this storm," Rodney Blevins, the company's vice president of electric distribution operations, said in a statement.
Statewide, about 118,000 electricity subscribers were still without service Tuesday evening, utility company and electric cooperatives reported.
Hurricane Sandy knocked out power to more than 321,000 Dominion Virginia Power customers at some time since Saturday, the utility said.
Dominion Virginia Power, the state's largest electric company, reported nearly 58,000 customers were out of service as of Tuesday evening, nearly all of them in Northern Virginia.
As of 3 p.m. Tuesday, the 13 consumer-owned electric cooperatives in Virginia reported more than 32,000 outages remaining, with the majority in the state's northern regions and including customers of the Rappahannock, Northern Virginia, and Shenandoah Valley electric co-ops.
"We expect to have most outages restored by the end of the day Thursday. Some members may still be without power longer as access to downed lines is proving difficult in certain off-road and mountainous areas," said Tim Martin, vice president of engineering and operations with the Fredericksburg-based Rappahannock Electric Cooperative, which serves about 155,000 customers.
Appalachian Power, which serves Southwestern Virginia, said 28,000 of its customers in the state were out of service. But, with heavy snow forecast for the state's mountainous regions, "we expect that number to increase through Thursday," spokesman Ron Jefferson said Tuesday.
Gov. Bob McDonnell gave state electric providers a pat on the back at his post-Sandy press conference Tuesday. Calling their response "a remarkable effort," the governor said, "Job well done."
Blevins said that Dominion Virginia Power has spent more than $820 million over the past five years on improvements to the reliability of the company's distribution system.
Dominion Virginia Power serves more than 2.3 million customers in Virginia. The state's electric distribution co-ops provide power to more than 615,000 residential and business subscribers, while Appalachian Power has about 500,000 Virginia customers.
pbacque@timesdispatch.com (804) 649-6813 ___
(c)2012 the Richmond Times-Dispatch (Richmond, Va.)
Visit the Richmond Times-Dispatch (Richmond, Va.) at www.timesdispatch.com
Distributed by MCT Information Services
PHOTO GALLERY
Hurricane Sandy
11/04/2012 12:26 AM EDT
PHOTO: A Marathon Wedding Proposal, Minus The Marathon
HuffPost's Katie Bindley reports:
Like all the competitors who trained for the 2012 NYC Marathon, Hannah Vahaba will not be running the race this year. But she also will never forget her moment at the finish line. After traveling in from Atlanta, Vahaba picked up a marriage proposal in Central Park on Saturday without having to traverse the 26.2-mile course.
"This is my fiance," said Vahaba, 31, who had tears running down her face as she stood in Central Park where the race would have ended, just moments after Martin O'Donoghue had proposed.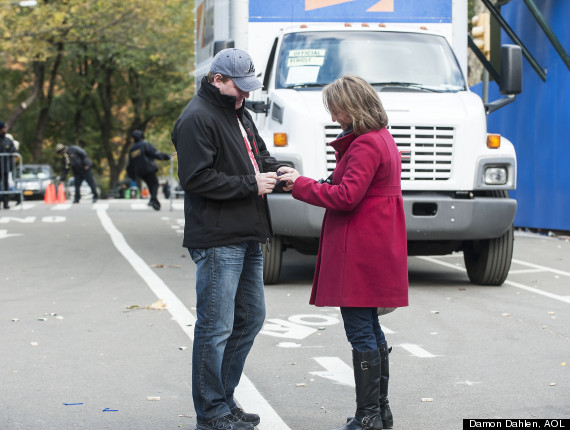 Photo by Damon Scheleur
BEFORE YOU GO